Six-year-old boy may set world computer expert record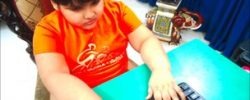 There are a lot of computer whiz kids out there. We've all seen the local news stories about the teenager who's created an awesome app, or the high school student working on an ambitious robotics project. We've all met those guys. But how often do you see a six-year-old kid who's been creating video game emulators since he was four and knows computers better than most adults?
Enter Wasik Farhan-Roopkotha. He learned how to use Microsoft World when he was three, and became interested in emulators a year later. He's also a boss when he competes in games like Call of Duty or Metal Gear Solid. He may soon be recognized by Guinness World Records as the world's youngest computer expert. "I knew he was very different since his birth. I couldn't believe my eyes when he began computing when he was just seven months old," his mom said in an interview with BBC.
Farhan-Roopkotha, who lives in Bangladesh, says his dream is to work for a large computer firm in the future. He is also learning English to make himself more marketable once he is actually old enough to begin a professional career. As for the world record, the boy genius won't be replacing a current record holder. Instead, his family, along with support from Microsoft, will try to convince Guinness to add a new entry in its records database. If they did decide to create such a record, there's probably little argument that Farhan-Roopkotha would deserve to be the inaugural choice.
[via BBC]