SiriusXM 2.0 adds timeshifting, track catch-up for iOS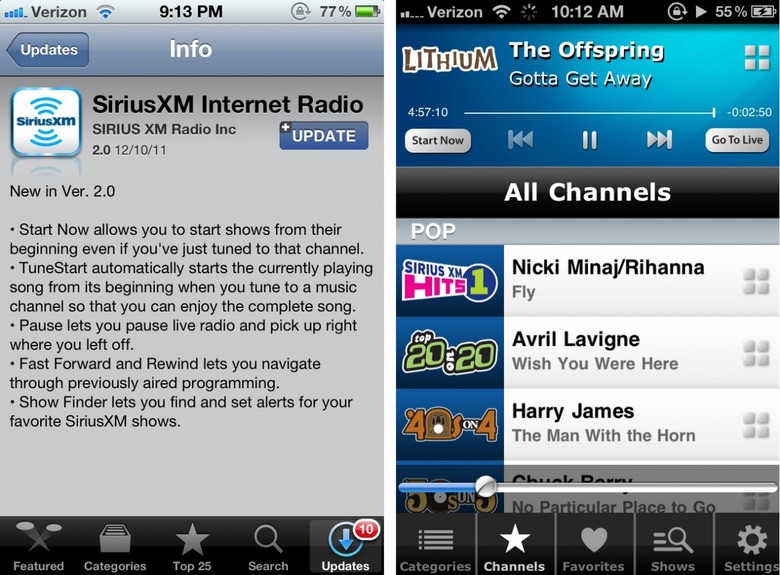 SiriusXM has released a new version of its iOS app, with v2.0 bringing the ability to jump back to the beginning of a show or song, even if you tune in partway through it. The updated internet radio app adds Start Now and TuneStart, different names for basically the same time-shifting functionality: if while channel-surfing you come across a show or a track you wish you could hear all of, new buttons allow you to flip between hearing it from the beginning or listening live.
Meanwhile there's also new timeshifting support, allowing you to pause the currently-playing radio station and then pick up listening to it later on. Fast-forward and rewind controls allow for skipping forward and backward through older shows. A maximum of 5hrs skipping is possible.
Interestingly, while the timeshifting features are currently limited to the iOS app, SiriusXM is believed to be working on adding them into its in-car options. A hybrid system that will "employ WiFi, Bluetooth and internet to create exciting complements to our core radio services" was promised by company president Jim Meyer, CEOutlook reported back in August, with the first of the "XM 2.0" offering arriving by the end of 2011.
That seems to have happened, at least in the shape of the iOS app, though it's unclear how in-car hardware will fit into the mixture. One possibility is tethering via Bluetooth to a smartphone and using that connection to buffer a combination of older programming delivered via the internet and live content via satellite.
SiriusXM 2.0 for iOS is available in the App Store now [iTunes link].
[via Zatz Not Funny]