SiRFatlasIV combo GPS and multimedia CPU chipset launches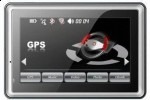 SiRF have announced their latest platform, SiRFatlasIV, a chipset which bundles one of the company's GPS receivers with a multimedia processor.  Intended to be used in mobile devices, the chipset offers both the same 64-channel location system as in their standalone SiRFprima receiver, and a 500MHz ARM11 processor for application and video crunching.
The SiRFatlasIV has a hardware video post-processing accelerator for T-DMB-DVB-H and CMMB, among other things, together with an integrated NAND and SD controller.  Meanwhile a high-sensitivity GPS core means that smaller antennas can be used, again keeping end-device size down and prices cheap.
To that end, the SiRFatlasIV also has a touchscreen controller, 10-bit ADC, video input and USB 2.0 PHY.  SiRF's new chipset has been picked up by ASUS, Foxconn, Navigon, Wistron and Nextar, among others, and is used in the Navigon 3300 max, Nextar Q4-MD and YF International 82A, among other products. 
Press Release:
SiRFatlasIV Multifunction Location System Processor Delivers Premium Location and Multimedia Power for Budget-Conscious Consumers

Available Now in Production Quantities, the SiRFatlasIV Platform Maximizes Profits for Makers of Innovative, High-Volume Navigation and Location Devices

SAN JOSE, Calif., June 9, 2009 – Targeting an emerging class of location-centric devices for budget-conscious consumers, SiRF Technology Holdings, Inc. (NASDAQ: SIRF), a leading provider of GPS-powered location platforms, today introduced the SiRFatlasIV® multifunction location system processor, a versatile solution for creating high-volume, navigation and location-aware products. With its high performance location engine and twice the memory bandwidth of current entry-level systems, the SiRFatlasIV platform – available now in production quantities – is designed to minimize bill of materials (BOM) and overall system cost while giving manufacturers the premium location and multimedia performance they need to create innovative, value-priced consumer products.

SiRFatlasIV complements the premium SiRFprima® multifunction location system processor introduced last year, and combines the same advanced location engine of SiRFprima with a multifunction feature set more optimized for entry level systems. Working closely with its key customers, SiRF designed the SiRFatlasIV architecture to reduce overall system BOM costs, including the integration of many high-cost peripheral functions onto the single chip, while giving customers flexibility to differentiate. SiRFatlasIV is already in use by several leading original equipment and original device manufacturers, including ASUS International/Unihan Technology Corp., Binatone Electronics International Limited, CiRex Technology Corporation, Foxconn Technology Group, Globalsat Technology Corporation, Maylong and Maylong's GPS for Dummies, Navigon AG, NDrive Navigation Systems SA, Nextar Inc., Wistron Corporation and YF International.

"We believe multifunction, location-centric consumer devices are best served by multifunction location silicon and software platforms. The compelling cost/performance benefits of our SiRFatlasIV solution enable our customers to profitably address these high-volume consumer markets today without compromising the location performance consumers have come to expect from SiRF," said Kanwar Chadha, founder and vice president of marketing for SiRF. "Together, our SiRFatlas and premium SiRFprima multifunction system platforms enable SiRF's customers to offer a complete range of location-centric products with industry leading location, visualization and multimedia performance across all tiers of the mainstream market."

By integrating the same advanced location engine as found in the SiRFprima platform, the SiRFatlasIV solution brings to value-priced products a level of location performance traditionally found only in high-end navigation systems. This high-sensitivity, 64-channel, multi-satellite system location engine, with more than 1,000,000 correlators, improves time to first fix (TTFF) in tough environments, and provides true -161-dBm simultaneous tracking of both GPS and Galileo satellites. Also, due to its intelligent sharing of system memory, the location engine is able to use the vast system resources available to improve tracking accuracy and navigation and further reduce cost.

The SiRFatlasIV's high sensitivity GPS core also allows the use of lower cost patch antennas and less expensive 2.5 ppm crystal oscillators without impacting performance. These cost-driven innovations broaden the potential for a wide range of entry-level and mid-range navigation and location-aware consumer devices.

"When developing our 3300 max and 4300 max product lines, we were looking for a solution that would enable us to deliver a premium navigation experience at an entry-level price, one with the GPS performance and application and graphics horsepower to support our unique MyRoutes feature, which actually learns the driver's habits and tailors routes to fit the individual's driving style, as well as our Reality View Pro, which displays roads realistically," said Belhassen Jerbi, head of product management at Navigon AG. "The SiRFatlasIV gives us industry-leading GPS performance, a powerful application processor, multimedia processor and other peripherals integrated in a cost-effective solution, which enables us to bring these products to market at an entry-level cost structure."

With ever increasing demands for faster route calculations, rich multimedia support, and a richer visualization experience, the SiRFatlasIV provides a 500-MHz ARM11 processor core with vector floating point unit complimented by a 64-bit system bus and an advanced, high-speed memory controller with DDR 400/Mobile-DDR 333 memory module support to provide plenty of horsepower and memory bandwidth for the most demanding application scenarios. The built-in hardware video post processing accelerator handles video rendering and display, allowing popular mobile digital TV applications such as TDMB, DVB-H and CMMB to run with minimal impact on CPU performance.

"With consumers demanding top-of-the-line features at entry-level prices, we chose the SiRFatlasIV because it is an ideal platform for creating such products, offering superior GPS performance, powerful application and graphics processors and more integrated in a single, very cost-effective package," said Eddy Zheng, president and founder of Nextar, Inc. "The Q4-MD is a fully featured portable navigation system we are able to offer at a price that our value-driven consumers expect, thanks in large part to the reduced chip count and cost savings we realize from employing the SiRFatlasIV."

The integrated NAND and SD controller design supports both single and multi-layer cell (SLC/MLC) flash memory, allowing system designers greater flexibility in selecting either a low cost or a robust NAND product.

By providing a full complement of embedded components and peripherals – including GPS/Galileo baseband, LCD touch-screen controller, 10-bit ADC, video input and high-speed USB 2.0 PHY – the SiRFatlasIV platform enables manufacturers to achieve extremely low overall system cost.

"We are committed to providing solutions that enable manufacturers to build budget-priced PNDs and other location-aware products at lower cost, without compromising location performance," said Conlan Ma, director of marketing for the PND market. "At the same time, we have normalized the design layout and unified our software development environment across our SiRFatlas and premium SiRFprima solutions to enable development of a full product range on a single platform."

SiRFAtlasIV-Based Customer Systems

Navigon 3300 max, 3310 max, 4310 max and 4350 max: These navigation systems can display realistic 3D views of roads, and can adapt to driving habits and intelligently suggest routes. They are paired with SiRF's InstantFixII fast-start technology and the SiRF GRF3i+ GPS radio subsystem for fast fix times and improved immunity against near-band RF interference in electrically noisy vehicle environments.

Nextar, Inc. Q4-MD: A low-cost, feature-rich portable navigation device that provides realistic 3D renderings of buildings for most major cities. The Q4-MD can play back stereo mp3 audio files and display photos, and with MSN Direct provides up-to-date traffic reports, current and three-day local or national weather conditions, and gas-price comparisons for nearby stations, as well as news headlines, stock quotes, movie times and local event information.

YF International model 82A: This fashionable and ultra-slim platform combines the SiRFatlasIV multifunction location processor with Microsoft's Windows CE .NET 6.0 Core version operating system to enable OEMs to tailor this product to their needs. The 4.3-inch resistive touch color display panel, built-in speaker, stereo jack, SD/MMC slot and USB port support a variety of multifunction applications.

Availability and Pricing

Already fully production qualified and available in high volumes, the SiRFatlasIV multifunction location processor measures 12 mm x 12 mm with 1.1-mm height, comes packaged in a 292-ball grid array (TFBGA) with 0.65-mm pitch and supports both WinCE and Linux operating systems. Please contact a SiRF sales representative for pricing information.

SiRF's Multifunction Platforms

SiRF's multifunction platforms are designed to unleash the power of next-generation, location-centric convergence devices, significantly enhancing the consumer experience for location applications and media rich content. Offering industry leading GPS/Galileo location performance and powerful application processors with a common development environment, these platforms provide a rich visualization and multimedia experience. SiRFatlasIV integration is optimized for the requirements of entry- and mid-level devices, while SiRFprima, with its dedicated hardware for high-resolution multimedia and 3D graphics, is optimized for higher-end systems.
[via NaviGadget]