It's time go get retro-futuristic with The Simpsons as a gang of creators pixelate the Couch Gag. This is a "pixel tribute" to The Simpsons as directed and animated by Paul Robertson and Ivan Dixon. Music here is a midi-style update of the Simpsons theme by Jeremy Dower. Prepare yourself for a bunch of odd-flavored craziness – memories of the past mixed with game-style graphics making one intro we dearly wish was at the front of a whole episode. Alas, it is 3rd-party excellence.
The creators of this video are pixel-masters in their own right. Paul Robertson has a collection of works which out-do the Simpsons video you're about to see in every way. Watch out for the vibrating rainbow background.
Over in Ivan Dixon's collected works you'll find a super-flat aesthetic that cannot be denied. Watch out there as well for those of you prone to epileptic seizures.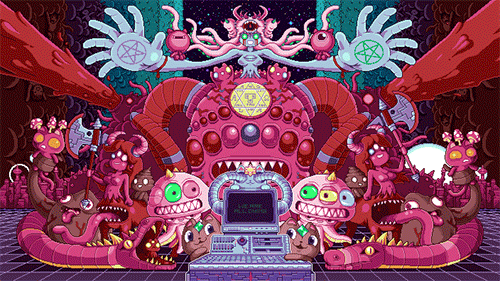 The music comes from multi-talented Jeremy Dower who, as you'll soon see, also has a love of rainbow graphics.
Below you'll see a number of Simpsons oddities from the past several weeks and months. Let us know if you're all about the next generation in pixelated graphics here or if you could certainly do without.