SIM card with integrated GPS from Sagem Orga & BlueSky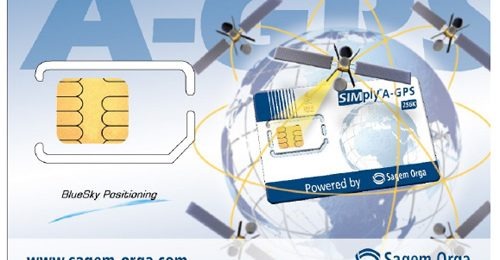 Sagem Orga have announced a partnership with BlueSky to integrate an A-GPS chip with a SIM card.  Both a GPS receiver and a proprietary antenna are built into the SIM, capable of using both satellite positioning and cellular-triangulation (Assisted-GPS) methods.  While the technology was originally intended to satisfy emergency services legislation demanding mobile users' locations are available to 911-type operators, it will also allow non-GPS handsets to use navigation software.
There's no technical detail on the GPS receiver used, so it's hard to say whether the Sagem Orga SIM will be more or less accurate than receivers currently integrated into mobile devices.  However, it does offer carriers an easier – and presumably cheaper, though there's no word on pricing for the new SIM – way to upgrade users to location-aware services, sending out a new SIM card rather than selling them a new handset.
It's also unclear what software changes may need to be made to cellphones in order for them to take advantage of the integrated GPS.  Nonetheless, Sagem Orga claim to have been approached by major carriers all over the world regarding the technology, so we could be seeing these SIMs lurking under our battery covers sooner rather than later.
Press Release:
Sagem Orga and BlueSky Positioning first to bring A-GPS SIM to market

Sagem Orga (SAFRAN group), a world leader in smart card technology, today announced a strategic partnership with BlueSky Positioning that will help the mobile industry overcome the key stumbling block to the success of location-based services – affordable, accurate positioning technology. Sagem Orga will partner with the mobile positioning specialist to integrate A-GPS positioning technology on SIM cards for the very first time worldwide.

Despite capturing the imagination of the global wireless industry, location-based services (LBS) have performed significantly below industry expectations for nearly 10 years. Even now the revenues from LBS are tiny compared to other next generation mobile services, and today's growth rates are not promising.

Sagem Orga and BlueSky Positioning believe that the key stumbling block to the success of LBS is that the positioning technologies have not been fit for purpose – technically or economically. The two broad technical approaches that can deliver the required accuracy demand either significant investment in networks by the mobile operator or the purchase of new handsets by the end user. Now a solution is being offered for the first time through the Sagem Orga and BlueSky Positioning partnership: the A-GPS SIM, enabling mobile operators to significantly increase the cost effectiveness of their services and size of their marketing target when launching new LBS.

François Blanchard, Global Account Marketing Manager at Sagem Orga, said: "The SIM is entering a new era where it can now be considered as a real service platform and a valuable device; the A-GPS enabled SIM card will reshape the way SIM card are perceived by MNOs and end-users."

"We're delighted to be working with Sagem Orga to bring our exciting technology to market," said Risto Savolainen, BlueSky Positioning's CEO. "Since unveiling our technology concept to the world last year, mobile operators serving more than 1.8 billion subscribers have approached us to learn more. This announcement takes our patented technology out of the lab and puts it into the hands of millions of consumers around the world."

Sagem Orga and BlueSky Positioning's new approach incorporates a highly accurate GPS receiver and a proprietary antenna into the SIM card, enabling mobile operators to deploy both legally-mandated and commercial applications quickly and cost-effectively for all mobile handsets, with no need for software or hardware changes. To make localization even more accurate and user friendly, the A-GPS SIM uses assisted GPS data.

The primary purpose of A-GPS SIM is to provide accurate positioning information of the phone to emergency services in case of an emergency call as required by E112 and E911 legislation in the EU and the U.S. respectively. In addition to this, it can support generic location-based services such as navigation, 'find a place or person' services, location-aware games, and many more.

This technology partnership with BlueSky Positioning is an excellent example of Sagem Orga's Partner Program strategy. The Partner Program aims to identify and collaborate with third parties capable of enhancing the product portfolio offering to network operators. Continually finding the right solutions externally and assisting in bringing them to market has become a crucial part of supplying SIMs and USIMs to network operators.

BlueSky Positioning

BlueSky Positioning Ltd was founded in 2005 to develop and commercialize accurate, affordable SIM card based satellite positioning products and services targeted for all GSM and 3G mobile phones. BlueSky Positioning has its headquarters in Luxembourg with subsidiaries in UK and France. Additional information about the company is available at

www.blueskypositioning.com 
[via SlashPhone]