Silver Seal Flex keyboard can be washed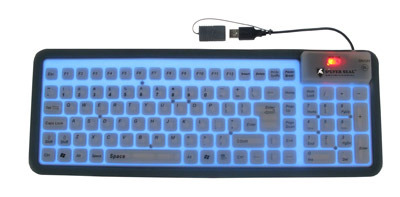 Seal Shield has announced their newest product, the Silver Seal Flex and it makes your health a priority. The silicone keyboard is flexible enough to be rolled up for transport, but that's not the really cool part.
This keyboard can also be submerged in water–to the point of being washed in a dish washer! This waterproof keyboard is meant to be the ultimate in hygienic computing and after several studies that show just what exactly lives on keyboards, a little bit of hygiene is a good thing.
This device is also antimicrobial due to the silver ions built into it. You can expect this ability to last up to 5 years. Also included is a safer cord that splits in half, leaving only six inches attached to the keyboard and the remaining eight feet attached via your computer's USB port. You can get your own Silver Seal Flex for $50.
[via Electronista]