Silicon Power unveils new SDHC card for HD video recording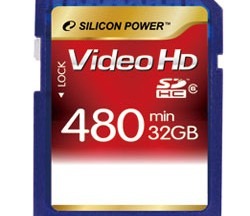 Silicon Power has officially unveiled its new memory card for recording HD video on cameras and camcorders. The company chose to strap the memory card with a strange name of Full HD Video Card making sound like computer hardware rather than the memory card that it is.
The device is a SDHC Class 6 memory card that features Content Protection for Recordable Media and ECC to help ensure that the video is protected when recording. That is important if the video you are recording is something you want to keep.
The SDHC card is offered in 4GB, 8GB, 16GB, and 32GB capacities. The 32GB card can record up to 320 minutes of video in fine mode or 480 minutes in normal mode. Pricing is unannounced at this time.