Silicon Mountain Allio HDTV with integrated Blu-ray Media Center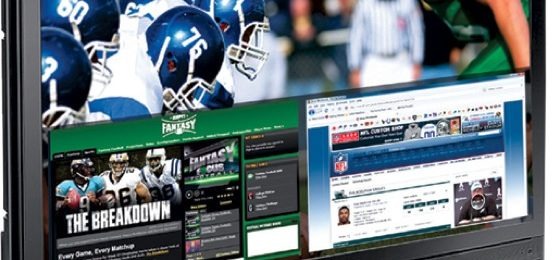 Silicon Mountain have taken the sizable wraps off of the Allio HDTV, which not only boasts a full 1080p High-Definition panel but an integrated home theater PC and Blu-ray player.  Available in two sizes, 32 inches and 42-inches, six models are on offer: the top-spec Allio ATVI-3G4542 has an Intel Core 2 Duo E8400 CPU with 4GB of RAM, a 1TB hard drive and Windows Vista Home Premium.
Connectivity includes two HDMI inputs, two component inputs, one S-Video, one composite, one eSATA, six USB 2.0, one DVI-I, one HDMI output and one S/PDIF. There's also WiFi b/g and gigabit ethernet, together with Logitech wireless peripherals. Sound is either from the integrated 12W stereo speakers or 7.1 Dolby Home Theater surround sound. In fact the limiting factor might be the LCD panel itself, which has a relatively meager 2,000:1 contrast ratio and 400 cd/m2 brightness.
The top-spec Allio will set you back $2,799.99, but the range starts at $1,599.99 for a 32-inch version without Blu-ray. Silicon Mountain are also planning Ubuntu Linux models at lower prices. 
Press Release:
Silicon Mountain Unveils Allio™ 42-inch HDTV with Integrated PC and Blu-Ray Player

Product, First of Its Kind in North America, Now Available

Boulder, Colo. & Menlo Park, Calif. — November 10, 2008 – Silicon Mountain Holdings, Inc., (OTCBB: SLCM), a technology company specializing in high-performance interactive computing solutions, today announced its design for a 32 and 42-inch High Definition LCD-TV with an integrated, full-function PC and Blu-Ray/DVD player. Named Allio, this system will define an entirely new category of converged products, where entertainment and instant, on-demand information and productivity blend together seamlessly, in stunning high-definition.

The Allio HD TV / PC is the first product of its kind in North America, and Silicon Mountain is the first company worldwide to develop a converged HDTV / PC solution that includes Blu-Ray. It is available now, in time for U.S. holiday purchases. Orders are being taken now at the Visionman website at http://www.visionman.com/.

Additional information on where to buy Allio will be announced soon.

The flagship Allio model marries a Full-HD 42" LCD display with a combo Blu-Ray/DVD player, integrated digital recorder for PVR and a powerful PC, based on the Intel Core2Duo E8400 processor, 4GB of RAM from Silicon Mountain, a 1TB hard drive and the 64-bit version of Windows Vista Home Premium. In addition to the analog and digital audio-video inputs common to high-def televisions, Allio includes wireless and wired networking capabilities and several USB ports to extend the experience to other computers and peripherals in the home.

Internet Video Comes to the Big Screen

Integrating the television with the Internet brings a new source of content to the digital lifestyle – Internet video. Normally confined to smaller computer monitors, streaming high definition content from providers like Joost, Hulu and TidalTV now can be accessed on the TV, in addition to popular clip sites such as YouTube. Allio's channel choices span cable, satellite and Internet for a truly converged, hybrid entertainment experience. Media libraries can be combined, shared and played from a single device. The Allio HD TV / PC enables users to store their iTunes and DVD collections on a single system.

"The Allio HD TV / PC takes the digital experience into another dimension," said Tré Cates, Silicon Mountain President and CEO. "During product development, we discovered that our testers regularly expressed disappointment in their own large screen television and home theatre configurations after using Allio for just a few hours. The results are clear. The Allio HD TV / PC experience simply suits our modern digital lifestyle better. The converged experience will boost productivity and interactive behaviors, and bring families together around the next generation of appliance, just as the early television and radio did for generations past."

Picture-in-picture and split-screen capabilities allow multiple sources of content to operate together on a single large screen. A Blu-Ray or DVD can be watched in one window, while television is viewed in another pane, with computing tasks occurring simultaneously. The uses of this split-screen capability are seemingly endless. On Sunday, a fantasy football player can watch multiple games simultaneously, while browsing NFL.com for real-time player stats and scores, while chatting on AOL Instant Messenger or Skype with other league owners. A student can watch educational programming from a satellite or cable provider while writing a paper and looking up unfamiliar terms and concepts on Wikipedia, then taking a quick break to update his or her MySpace page. A business executive can view streaming stock quotes while composing email and watching financial news.

Systems start at $1,599.99

Six configurations of The Allio HD TV / PC are available, with features and pricing to fit any budget. The entry-level 32" and 42" Allio with an Intel 2.5 GHz PDC E5200, 250GB of storage, 2GB of RAM, DVD/CD support and Vista Home Premium retails for $1,599 and $1,999. The middle system in the series adds PVR and Blu-Ray support and an upgraded 2.54 GHz Core2Duo E7200 processor for $2,199 and $2,399. The flagship Allio system ups the ante on the intermediate option, upgrading the RAM and storage to 4GB and 1TB, respectively, for $2,399 and $2,799.

For the budget-minded, Silicon Mountain plans to launch configurations based on the popular Ubuntu Linux operating system for an even lower-cost solution. Every Allio HD TV / PC model will be assembled in Northern California.