Silent Mouse - The perfect partner for the silent keyboard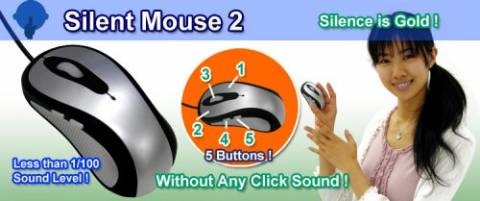 The other day we showed you a keyboard that was almost completely silent. So if you decided to purchase one of these for the sake of your co-workers, then now you're only driving them crazy with the sound of your mouse clicks.
Now you can take care of that as well with the Silent Mouse 2. I will admit that the sound of one's clicks is far more annoying than the sound of typing on the keyboard. The random clicks would probably drive me crazy before the keyboard.
If you're worried about annoying clicking sounds, then you can pick one up for about $25. Now all you need is a silent PC, and you're good to go.
Silent Mouse – Heaven to those with partners addicted to solitaire [via coolestgadgets]