Sigma ultra-thin set-top box platform hangs on your AC outlet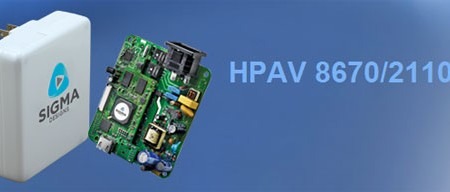 We have already talked about the Google purchase of SageTV that was announced over the weekend. Something interesting in the purchase that we have been thinking about is the fact that SageTV has just finished porting its software over to the Sigma reference design hardware. The speculation is that the ability to operate on the Sigma reference platform may be the driving force behind Google gobbling up SageTV to use the company's middle-ware expertise to build up a new version of the failing Google TV hardware that isn't doing well at all on the market today.
The thought of a Google TV running on the tiny hardware platform that Sigma has is very interesting. The platform is tiny and is be small enough to hang from your outlet so you don't need anything sitting in your entertainment center. The platform is so small and integrated that the only cord it needs for power, networking, and connectivity is a HDMI cable from the box to the HDTV. The platform gets its networking connectivity over the power line.
The Sigma reference platform also has Z-Wave RF tech integrated to allow for advanced remote control functionality as well. The Z-Wave tech lets the user place the device behind furniture where it is out of site and still get full remote control capability. It can also integrate into other systems with Z-Wave tech. The tech under the hood includes the SMP8670 media processor optimized to run Adobe AIR for TV, Flash Player, and other graphical over-the-top environments. It also has CG2110 Home Plug AV technology with ClearPath for networking.