Sigma sd Quattro cameras pack major features into a tiny body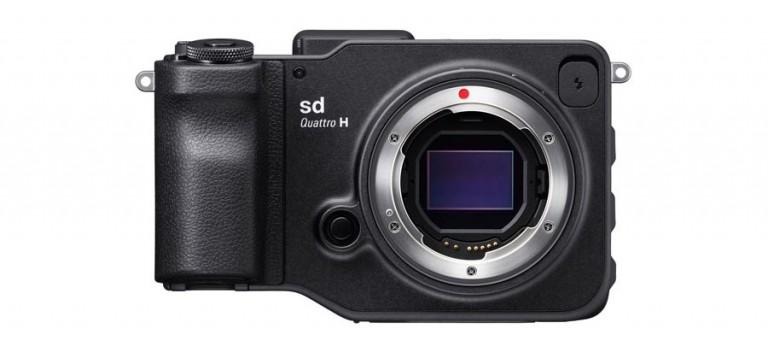 Sigma has introduced two new compact cameras, the Sigma sd Quattro and sd Quattro H. Both models feature a Foveon X3 image sensor and are promised to offer high image quality, doing so while retaining a travel-friendly size (sans the lens, that is). These interchangeable lens cameras provide a bit of the best of both worlds, keeping the weight burden low while enabling photographers to switch lenses as situations demand.
Both mirrorless cameras are based on the SIGMA SD1 Merrill concept, according to the company, with both featuring the Sigma SA mount and compatibility with all of Sigma's Global Vision lenses spanning the sports, arts, and contemporary product lines.
Lenses aside, the sd Quattro has an APS-C sensor producing medium-format 39-megapixel images. The sd Quattro H is a little larger, offering an APS-H image sensor producing 51-megapixel images. The Foveon X3 Quattro image sensor has a trio of photodiode layers, each of which respond to different RGB colors. This is unique among image sensors, according to Sigma. There's no low-pass filter, and thusly the sensor can capture 100-percent of the RGB colors across its three layers.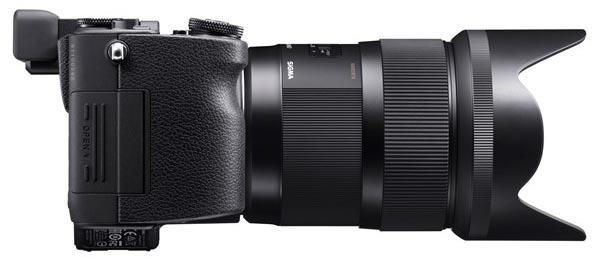 Joining this sensor is the TRUE (Three-layer Responsive Ultimate Engine) III image processor, which uses Sigma's own algorithm to process the image data sans image degeneration or the loss of color crispness — says Sigma, the images produced have a "noticeable 3D pop." The use of two image processing engines speeds up the data processing rate.
Other features include a Super-Fine Detail (SFD) exposure mode, which results in seven exposures generated from a single press of the shutter button. These are packed as RAW data in a X3l file format for use with the Sigma Photo Pro application, resulting in noise-free photos with a greater than typical dynamic range. When using this mode, though, photographers are advised to use a tripod to prevent camera shakes.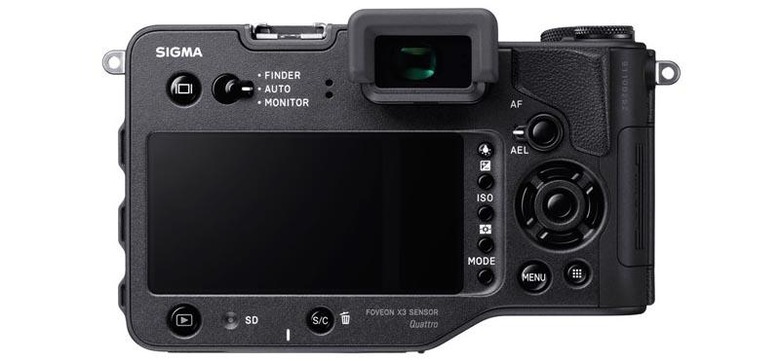 As well, Sigma has combined a pair of auto focus detection modes, contrast detection and phase detection, to produce an AF system described as being both fast and precise.
As far as the camera body itself goes, the new Quattros sports a 1.62-megapixel 3-inch TFT LCD on the back and a second smaller sub-monitor that displays certain details like remaining shot capacity and ISO. Joining them both is a 2.36-megapixel electronic viewfinder with almost 100-percent coverage, a magnesium alloy body, dust and splash-proof construction, 14-image continuous shooting in RAW, a quick set menu, monochrome and color modes, an electronic level, and an HDMI port.
Pricing and availability haven't been announced.