Sigma new 24-70mm f/2.8 IF EX DG HSM hands-on : sharpness at wide open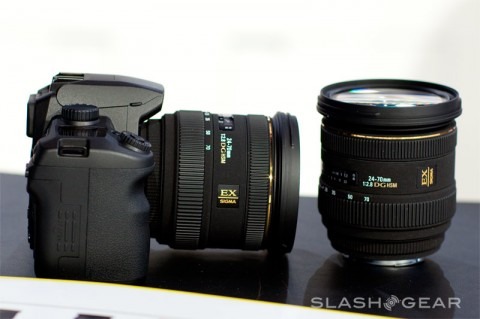 You want more choices of walk-a-round 24-70mm zooms with silent motors? Here's your latest option, but it comes in at a slight higher premium cost that one would normally expect from a 3rd party lens maker like Sigma. Sigma's new 24-70mm f/2.8 EX DG HSM Autofocus Lens now incorporates HSM (Hyper Sonic Motor) – a quieter and speedy AF – with full time manual focusing capability and much superior lens construction. At twice the cost of the previous model, ($1,400 retail, $900 street) does it warrant the upgrade? We dropped by Sigma during PMA 2009 to find out more.
The new sigma 24-70mm feels solid in the hand, 2.7oz heavier than previous model and has 14 elements in 12-group lens construction, as opposed to 12 elements in 14 groups. AF speed is fast, not much different from my 24-70L as far as I could tell, but the question is how does it perform wide open?
The images below are taken with the new Sigma on a Canon 5D mark II at 34mm, and with camera settings at ISO 800, F2.8 to F8. Shutter speed is listed below so you can be the judge if loss of detail was operator's error or equipment's hiccup. We meant to set it at widest end, but somehow we missed it. My guess was the zooming mechanism is slightly too tight; it was barely broken in, as were most of the Sigma lenses on the stand.
Full size images are converted with ACR at "zero" settings, so there's neither noise reduction nor sharpness applied; and to ease the bandwidth, 70% JPEG compression was used to further reduce the picture size. The lens is available in the Canon version now at major online stores, and there are more coming for Nikon, Sigma, Pentax as well as Sony mounts.
F2.8, 1/160s, ISO 800F4.0, 1/80s, ISO 800F8.0, 1/25s, ISO 800Another wide open shoot at F2.8, 1/200s, ISO 400