Sigma 24-70mm F2.8 EX DG HSM gets official, but costly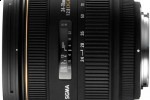 Sigma has made public of its HSM version of the much popular 24-70mm F2.8 EX DG lens back in September, but fewer details were revealed in pricing and availability department. An official announcement from Sigma Japan today could shatter the hope of Canon or Nikon Digital SLR owners seek for an alternate walk-around zoom lens with much competitive pricing.
Priced at 123,800 yen ($1,400), the new Sigma 24-70mm F2.8 EX DG HSM zoom lens is nearly tripled of its current model with lesser focusing ability and noisier motor. Despite the performance upgrades, it's not longer a valuable contender compares to Canon branded and Nikon branded lenses with similar focus distance and features. It's a different story if they were to throw in an OS (Sigma version of lens stabilizer) function.
The Canon mounted unit is slated to launch at January 25th while the Nikon-mounted to be followed next month. No words on Sony and Pentax-mounted version have been revealed.