Sigma dp0 Quattro camera sports fixed 14mm F4 lens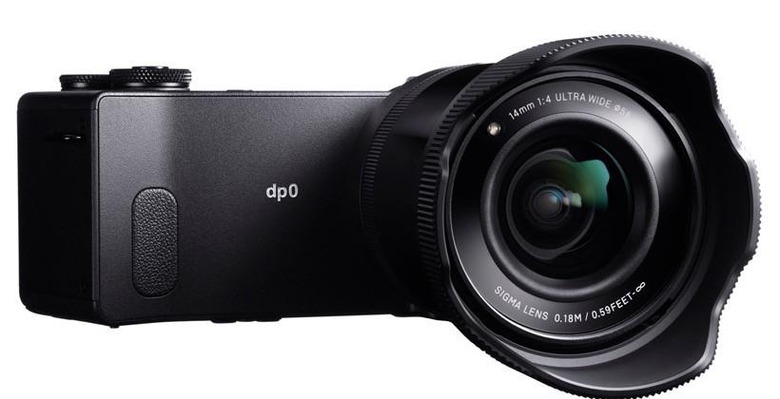 Sigma has pulled the wraps off a new digital camera that has a fixed lens called the dp0 Quattro Compact Digital Camera. The camera body is compact, but the lens is very large making for a total package that is far from what most consider compact. That large lens is a fixed 14mm F4 lens that is equivalent to a 21mm lens on a 35mm camera.
The design of the lens is optimized to maximize the performance of the Foveon Quattro direct image sensor inside the camera. The lens used four "F" Low Dispersion glass elements that offer performance equal to fluorite. The lens also has a pair of Special Low Dispersion glass elements and two aspheric lenses including a wide double-spaced aspheric lens.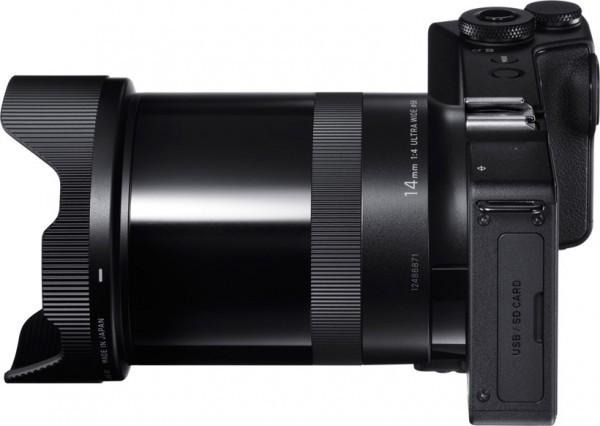 The design of the lens elements reduces chromatic aberration and distortion. Those two undesirable characteristics are typically present in super-wide angle photography. The Foveon Quattro X3 direct imaging sensor is equivalent to a 39MP Bayer sensor in testing.
The Quattro sensor in the camera is a triple layer panchromatic silicon chip with green-sensitive middle and red-sensitive bottom layers that each has 4.9MP resolution and record only color/chrominance information. The top layer of the sensor captures 16.9MP of blue channel chrominance and resolution/luminance information. The dp0 Quattro will hit stores in the US in July for $999.
SOURCE: Sigmaphoto