Shuttle XS29F nettop with VIA Nano CPU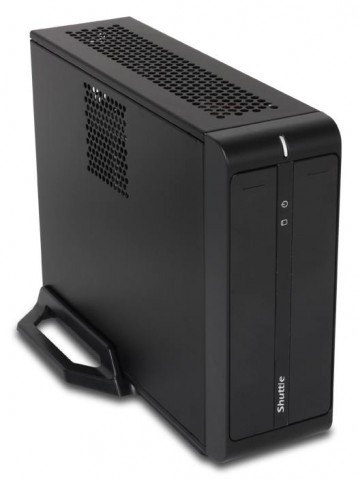 VIA and Shuttle have put together the latter's first SSF (small form factor) PC based on the former's Nano processor.  The Shuttle XS29F pairs the Nano U1700 CPU with VIA's VX800 media system processor, meaning that unlike many nettops the XS29F has both VGA and DVI Dual video outputs.Video demo after the cut
The VX800 also brings with it the VIA Chromotion video engine, with support for MPEG-4, WMV9 and VC1 hardware acceleration, together with Chrome9 HC3 integrated graphics with full DirectX 9.0 compatibility.  Alongside the video outputs there are ethernet, HD audio, PS/2 and four USB 2.0 ports.
Shuttle are positioning the fanless XS29F as ideal for replacing bulky, noisy and power-greedy desktop PCs in homes and offices.  It can be customized with a number of SATA-II drives and up to 4GB of DDR2 RAM.  No word on pricing as yet, but it will land in June.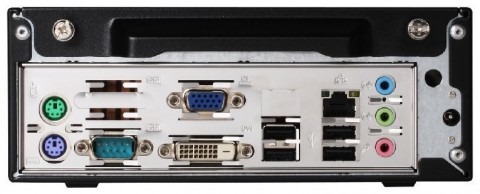 Press Release:
Silence is Golden in the Office with Shuttle's First VIA Nano-Based Mini PC

VIA Nano processor powers fanless Shuttle desktop for a silent, small form factor PC in home office and small business environments

Taipei, Taiwan, May 27, 2009 – VIA Technologies, Inc, a leading innovator of power efficient x86 processor platforms, today announced the adoption of its VIA Nano processor by Shuttle Inc. in its latest ultra small form factor PC, the fanless Shuttle XS29F. Ideal for home office or small business environments where space is often at a premium, the Shuttle XS29F is completely fanless for near silent operation.

The VIA Nano-powered Shuttle XS29F takes performance efficiency and low noise to new levels of genius, combining a low profile, unobtrusive design with the superior multimedia and productivity performance of the VIA Nano processor. From office applications and browser-based tasks, to high-end multimedia playback, the XS29F excels where other fanless SFF systems falter. SME and SOHO users will also benefit from a lower TCO through reduced energy consumption and lower fuel bills.

"The VIA Nano processor is designed from the ground up to offer that long sought after blend of performance and energy efficiency", said Richard Brown, Vice President of International Marketing, VIA Technologies, Inc. "Shuttle have leveraged this to produce a remarkable device that redefines the modern desktop in terms of both size and noise."

"The Shuttle XS29 Slim series offers small but can do it all functionality that meets VIA's design strategy of small is beautiful," said David Yu, chairman of Shuttle Inc. "By adopting the VIA Nano processor, the Shuttle XS29 Slim series takes advantage of performance and power efficiency that makes it ahead of its kind, and perfectly suited for any modern living room or office."

About the Shuttle XS29F

Powered by a VIA Nano U1700 processor, the XS29F is complimented by the VIA VX800 media system processor, bringing support for D-sub and DVI Dual video support, rich HD audio, Fast Ethernet, S-ATA II storage and up to 4GB of DDR2 system memory.

The VIA VX800 provides the VIA Chromotion video engine with hardware acceleration for today's more demanding video formats, including MPEG-4, WMV9 and VC1, while the VIA Chrome9 HC3 integrated graphics core boasts full DirectX 9.0 support. Back panel I/O includes both VGA and DVI ports, Ethernet, HD audio, PS/2 and four USB 2.0 ports.

Shuttle has engineered the XS29F to have a maximum power usage of under 50 watts for the entire system, housed in a small form factor, sub-3 liter chassis; almost one tenth the size of a regular desktop tower.