Shuttle X500V Is An All-In-One Touchscreen PC Preloaded With Linux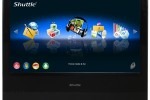 Here's some more all-in-one PC info for you, just in case you like that kind of thing. Shuttle has gone ahead and introduced a new version of their X500 line up, which still rocks that "ultra-thin" veneer. This time around, we've got a new OS for you, and it comes preloaded for your out-of-the-box using pleasure. It's a touchscreen too, so that has to count for something, considering that's all the rage right now, even for computers.
The new X500V comes preloaded with Linux, or openSUSE 11.1 to be exact. The computer itself is based on a dual-core ATOM 330 processor, which runs at 1.6GHz. If you're looking to buy the base specifications for this little device, then you'll be getting 1GB of DDR2 memory (which comes with a second DIMM slot, for upgrade options up to 2GB), and 160GB or hard drive space. The machine is 36mm-thick, and is built around a 15.6-inch, 1366 x 768 touchscreen with a 1.3 megapixel webcam, stereo speakers and a microphone in the bezel.

The unit, at its entry-level set up, comes with a Gigabit Ethernet port, as well as 802.11n WiFi. Five USB ports and a VGA output are also present. It's available now in the UK, in either a black or white variation, and is priced at 511 Euros, or $752. We don't have any word on an American release date.
[via Register Hardware]