Shuttle unveils new compact XG41 computer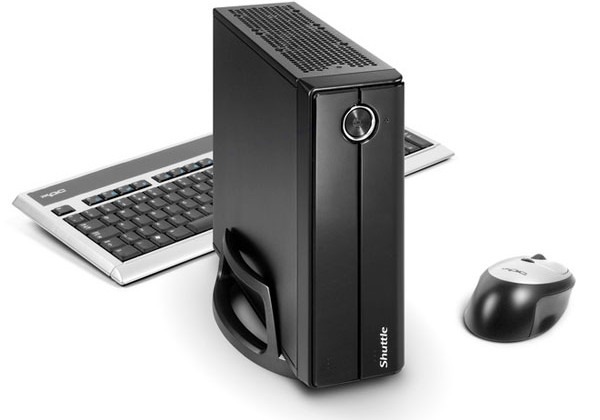 Shuttle has unveiled an interesting and very compact new mini PC in Europe called the XG41. The machine is a barebones computer meaning you will need to add some hardware like memory, CPU, and storage to get the machine to operate. Shuttle is famous for its very small and compact computers and the XG41 certainly goes with the compact theme taking up 3-liters of volume on a shelf. The machine measures 24.2cm D x 20cm W x 7.3cm H and it has plenty of connectivity despite the small size.
The XG41 has six USB 2.0 ports, dual com ports, S/PDIF audio output, and audio ports on the front and rear of the machine, the mainboard under the hood has a single mini PCIe slot for expansion and three SATA 3Gbit/s ports for storage drives. The case is made to support 2.5" storage devices and one of those three bays can be used for a slim line optical drive leaving two HDD bays. The board supports Intel Core 2 and other processors using LGA 775 sockets.
It also has a pair of RAM slots on the board that will support up to 8GB of RAM. The cooling system uses a heat pipe system that has dual fans for quiet operation and cooling performance. The power supply for the machine is an external 90W unit. The mainboard is a small mini-iTX unit and it uses the Intel G41 Express + ICH7 chipset. The maximum power consumption of the CPU chosen for the machine is 65W. Graphics are handled by Intel GMA X4500. The XG41 will sell for EUR 159 plus VAT when it launches.