Shuttle SX58J3 SFF PC supports Core i7-980X Extreme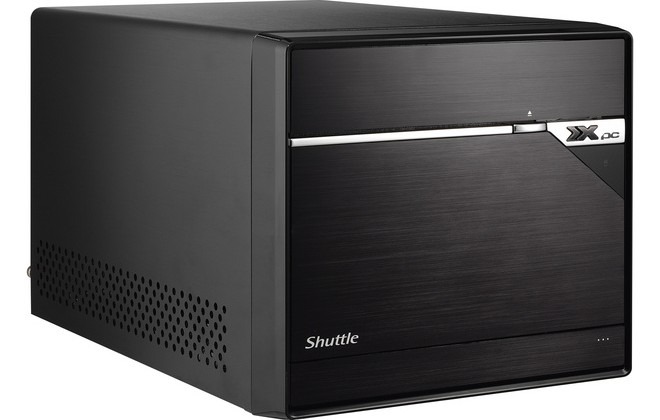 Just because you're small, doesn't mean you can't be powerful; that's pretty much the tagline for Shuttle's new flagship SFF mini-PC.  The Shuttle SX57J3 is a mere 33 x 21.5 x 19 cm in size, but is designed to swallow up Intel's hexacore Core i7-980X Extreme processor (or indeed any socket 1366 Core i7 chips), together with up to 16GB of DDR3 memory.
There are also two PCI-E-x16 slots – for either a single dual-slot card, or two single-slot cards in CrossFireX or SLI configuration – together with two gigabit ethernet ports with switchable failsafe or load-balancing.  Meanwhile there are two internal SATA bays – complete with RAID support – and a total of four SATA interfaces and two eSATA; Shuttle also thrown in a power connection for external SATA devices.
A custom heatpipe cooling system and 80-PLUS-certified 500W power supply round out the key specs, adding up to one darned impressive dinky PC.  It's available – without CPU, memory or drives, mind – for €470 excluding VAT ($577).
Press Release:
Unique Mini-PC Barebone – suitable for 6-core CPUs

Europe-wide launch of Shuttle's new SX58J3 flagship / "The smallest,

fastest Mini-PC in the world"

Shuttle Inc., a leading developer and manufacturer of

multi-form-factor solutions such as the world-famous XPC Mini-PC

Barebones, proudly announces today the launch of Europe-wide delivery

of the new XPC Barebone SX58J3. This new model offers extraordinary

computing power and its key features places it at the top end of what

is currently feasible in terms of miniaturisation.

The SX58J3 is particularly remarkable thanks to its compatibility

with Intel's ground-breaking 6-core processor, the Core i7-980X

Extreme Edition (codename: Gulftown), as well with all Core i7 CPUs

for socket 1366. To complement this, the four slots on the Barebone

are able to accommodate up to 16 GB DDR3 memory. The central interface

for all components is provided by an Intel X58 Express chipset which

was especially developed for high-performance systems.

"This Mini-PC which measures just 33 x 21.5 x 19 cm contains the

fastest desktop technologies currently available," states Tom

Seiffert, Head of Marketing & PR at Shuttle Computer Handels GmbH. "In

particular, professional applications in the areas of media design,

R&D and complex games benefit from the high performance density of the

machine."

One modern dual-slot graphics card or two single-slot graphics cards

with PCI-E-x16 interface can be used. ATI CrossFireX and NVIDIA SLI

technologies are both supported.

The features of the SX58J3 include two Gigabit interfaces that can be

redundantly switched in "Failover" mode or can support load increase

with "Load Balancing".

The two hard drives which can be fitted in this Mini-PC with an

internal volume of just 1300 cubic centimetres can be connected via

RAID. A total of four interfaces for SATA devices and two for eSATA

devices are available. There is also a power connection for external

SATA devices. A card reader for standard types of memory card is

located on the front panel.

The effective heatpipe cooling system ensures optimal stability in

this model while the highly-efficient 80-PLUS-certified 500W power

supply provides the necessary energy to meet all requirements.

The XPC Barebone SX58J3 is available from specialist retailers

immediately. Shuttle's recommended retail price is EUR 470 (ex VAT).