Shuttle Barebone X50 customizable touchscreen all-in-one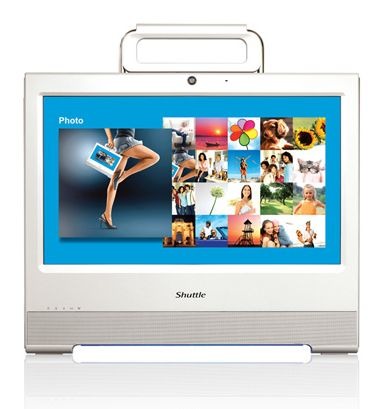 Shuttle have announced a barebone version of their X50 all-in-one PC, offering buyers the choice to install the storage and memory they prefer.  The X50 – announced officially back in March - has a 15.6-inch 1366 x 768 16:9 resistive touchscreen and Intel's Atom 330 dual-core processor; in its barebone form it comes devoid of RAM or hard-drive.
According to the press release, it seems the X50 barebone can be outfitted with between 512MB and 2GB of DDR2 RAM, and various types of 2.5-inch drive.  That could be anything from a budget 80GB hard-drive to a high-capacity SSD, though that would arguably be overkill given the 1.6GHz processor and GMA 950 graphics.
Other specs include a 4-in-1 memory card reader, gigabit ethernet, WiFi b/g/n, VGA output, five USB 2.0 ports, audio in/out and a VESA mount on the back.  It comes with no OS, but instructions for loading software from a network connection or USB drive are included.
The Shuttle Barebone X50 will go on sale at the end of June, with an MRSP of €361 ($499). 
Press Release:
Make your own All-in-One-PC: Shuttle presents the X50 Barebone

Memory and hard disk can be chosen individually

Shuttle Inc., the market leader in the Mini-PC segment and

manufacturer of Multi-Form-Factor solutions, is now shipping the

All-in-One-PC X 5000TA that was shown at the Computex in Taipei as a

barebone. Now users can decide for themselves which components should

be installed in their All-in-One-PC.

Now individualists can really get their money's worth. With the

Shuttle X50 Barebone the decision for HDD or SSD, 512 MB or 2 GB

DDR2-memory is totally left to the purchaser of this little gem that

is only 3.6 cm thin.

Shuttle is delivering the barebone, available in both black or white,

with an Intel Atom 330 dual-core processor (2x 1.6 GHz), 15.6"

touchscreen, a 1.3 megapixel webcam, card reader, Gigabit-LAN, WLAN

(Draft-N), stereo speakers, microphone and a fanless 65 Watt power

supply.

"The market introduction of the X50 Barebone has enabled customers to

adapt Shuttle's All-in-One-PC even more flexibly to their own

requirements," says Tom Seiffert, Head of Marketing & PR at Shuttle

Computer Handels GmbH. "For sophisticated technical users it can be

built in only a few steps."

The detailed installation guide is a helpful tool for the

installation of missing components or for upgrading the hard disk and

memory. The operating system is then deployed via USB drive or via the

network.

The Shuttle X50 Barebone is available from specialist retailers from

the end of June 2009. Shuttle's recommended retail price is EUR 361

(ex VAT). Suppliers can be found using the "Shuttle StoreLocator"

www.shuttle.eu/buy.