Shuttle announces XPC H7 7800H; offers HD-compatibility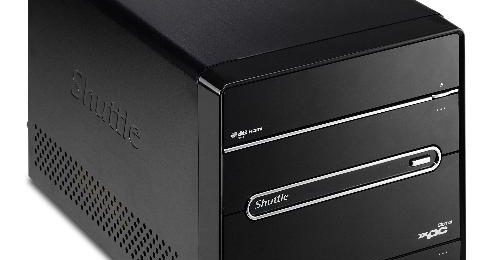 Shuttle announced today their XPC H7 7800H model, which offers HD-compatibility in a mini-PC format. This AMD-based system sports a new appearance and an HDMI interface that is definitely noteworthy.
This latest offering is very compact and is meant to play back Blu-ray. That is really its prime function. Running on Windows Vista, this system features a NVIDIA GeForce 8200 graphics card, with the option of upgrading, an AMD Athlon X2 6000+ processor, a Blu-ray Combo drive, a hybrid TV tuner card, WLAN and a card reader.
Other specs include 2x 1 GB DDR2-800 memory, a 500GB hard drive and a remote control. This Mini-PC runs quiet and is the perfect way to bring functional media into your home. Check out the full press release below.
Press Release:
Shuttle announces HD-compatible AMD-based Mini-PC Complete System with a new look

Picture and sound playback in high-definition quality over HDMI interface

Shuttle Inc., the market leader in the Mini-PC sector and manufacturer of Multi-Form-Factor solutions extends its portfolio with a new compact entertainment artist specifically designed to play back high-resolution Blu-ray media. The Shuttle XPC H7 7800H complete Mini-PC system is easy to use, stands for high processing power and space for expansion.

The Windows Vista based complete system includes a Blu-ray Combo drive, a card reader, hybrid TV tuner card, WLAN and a remote control. Based on the Shuttle XPC Barebone SN78SH7, this attractive Mini-PC solution barely measures 32.5 x 20.8 x 18.9 cm (DWH).

Users that want even higher performance than the built-in NVIDIA GeForce 8200 GPU already provides, can also equip the free PCI-Express X16 slot with an even larger graphics card. The heatpipe cooling system ensures the system runs quietly at maximum stability.

The very intuitively designed media centre interface of the pre-installed Windows Vista operating system is very easy to read on a television screen. Operation with the enclosed remote control is quick to learn and means this Shuttle Mini-PC can be instantly accessed from the sofa.

Technical specifications:

* Mini-PC Complete System is based on: Shuttle XPC Barebone SN78SH7

* Processor: AMD Athlon X2 6000+

* Memory: 2x 1GB DDR2-800

* Hard disk: 500GB, Serial-ATAII

* Wireless Communication: Wireless LAN

* Optical Drive: Blu-ray Combo

* TV Tuner: DVB-T/Analog Hybrid (incl. remote control)

* Other Drives: 25-in-1 Card-Reader

* Operating System: Windows Vista Home Premium

The Shuttle XPC H7 7800H complete system is available immediately from Shuttle specialist retailers or can be ordered via the Shuttle Systems Configurator on the Shuttle website. Shuttle's recommended retail price is EUR 915 (ex VAT).