Shimi is an Android smartphone-enabled robot that can dance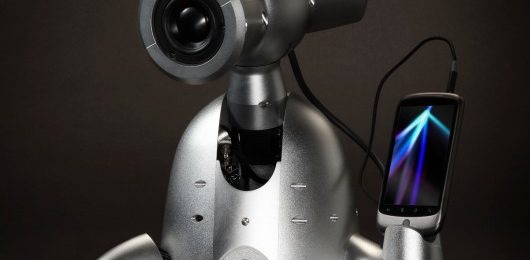 Researchers at Georgia Tech's Center for Music Technology have created a one-foot tall robot that does nearly everything that a real DJ can do. The robot–called Shimi–is an interactive "musical buddy" that acts as an Android smartphone docking station. Once Shimi gets access to the music library stored on your Android device, the bot can offer song recommendations, pick up the beat of the music, dance along to it and play songs based on feedback.
Shimi can also take advantage of the smartphone's camera and use its face-detection software to follow anyone as they move around a particular room while the bot continuously positions its speakers in the listener's direction for the best sound experience. If a listener taps or claps out a beat for Shimi to analyze, it can look through the music library and play up songs with a similar rhythm and tempo. When the music starts playing, get ready to see Shimi dance.
Now a dancing robot that follows you around is pretty cool, but it looks like Shimi still has a bit of growing up to do. Future plans are in the works for apps that will allow any music listener to shake their head or wave a hand at the bot, which Shimi will use to change or skip songs and learn more about the listener's taste in music.
Professor Gil Weinberg, director of Georgia Tech's Center for Music Technology is expected to reveal the Shimi bot today at the Google I/O conference. SlashGear will be covering the events today, so check back  to see if the Shimi robot is spotted in action!