Shenzhen Suno Technology MA-216 PMP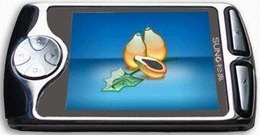 This PMP from Shenzhen Suno Technology looks pretty good compared to most of the rather boxy media players we see these days. It will play AVI, WMV, MP3, and WMA (with lyric display) as well as display various picture formats.
That's not bad for a simple PMP from China. It has a 2.4-inch LCD screen, a speaker, FM radio, and voice recording as well.
You get your choice of internal flash memory capacities with a maximum of 4GB, but you can add more via an SD card slot. As a side note, the firmware is upgradeable, so if the company were to come out with some new features, or if you were to become so dedicated to this device as to make your own, you could apparently upgrade. Its not a bad little PMP, no word on price or availability though.
China PMP Comes in Organic(ish) Design
[via pmptoday]