Shatterproof Droid Turbo 2, long-lasting Droid Maxx 2 leaked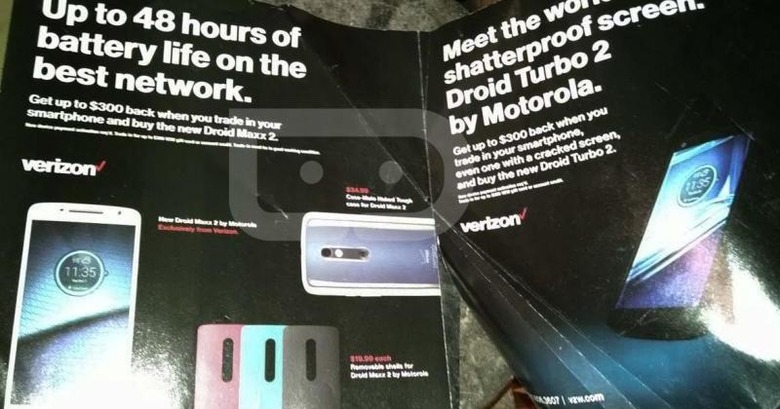 It's still a good few days before Halloween and before Verizon reveals its latest exclusive collab with Motorola, but leaks have pretty much spilled all the beans about the Droid Turbo 2 and the Droid Maxx 2. Practically rebranded Moto X Style, known as the Pure Edition in the US, and Moto X Play smartphones, the two new Verizon Droids have unofficially appeared in leaked marketing materials, revealing how Verizon plans to market these devices and to make them stand apart from the competition in the already crowded smartphone market.
Verizon's DROID devices have always been advertised as the tough guys of the smartphone market and the Droid Turbo 2 and Maxx 2 won't be any different. In fact, Verizon would have us believe that the Droid Turbo 2 is even a step above all the rest. The smartphone will be marketed as a rugged but high-end smartphone with a shatterproof screen. But it's one thing to make that boast and another to actually prove it. We expect Verizon will have some stunt to do so.
A first for the DROID line, however, is customization. Verizon's tough devices usually come with designs that unambiguously portray that image. This time, however, subscribers will actually be able to decide how their Droid Turbo 2 will look like. That's thanks to Moto Maker, which is already known for its hundreds of possible design combinations.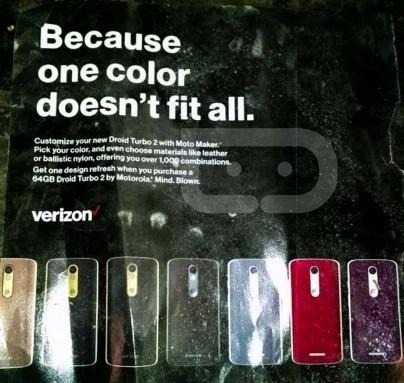 The Droid Maxx 2 is relatively less exciting. As the counterpart of the Moto X Play, its main focus is the battery life, and here Verizon seemingly chose to emphasize the 48-hour longevity of the smartphone. Pretty much like Sony's two-day boast. It won't be as customizable as the Droid Turbo 2, but it will still have some options when it comes to back shell colors.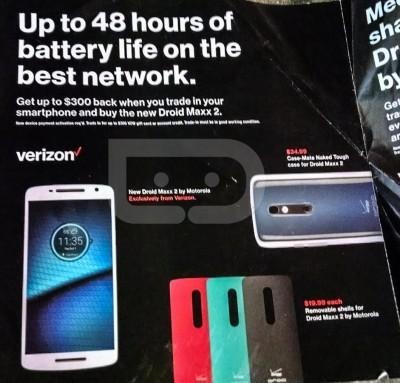 Verizon will apparently offer $300 for users who will trade in their old smartphone and buy a Droid Turbo 2 or Maxx 2. In the case of the Droid Turbo 2, however, Verizon will accept even old smartphones with cracked screens, playing into the shatterproof theme of the Motorola device.
VIA: Droid Life