Sharper Image Literati eReader Unveiled, Features Color LCD and $159 Price Tag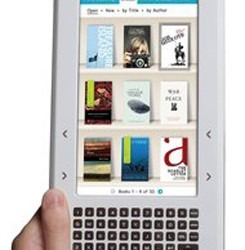 Even if tablets are seemingly the focus of the tech industry right now, and even if most of those tablets work just fine as eReaders in of themselves, that's not stopping the eReader market from pumping out more and more of the devices. And truth be told, there's nothing wrong with a specialized device — not everyone wants all of their goodies in one package, so to speak. So here comes Sharper Image with their own version, dubbed the Literati.
The device has plenty of similar characteristics as, say, Amazon's Kindle (everyone knows what that is, right?). For example, it has as 7-inch display, and that full QWERTY keyboard below that display. And much like Amazon's $139 WiFi-only model, the Literati also features integrated WiFi. However, don't expect 3G connectivity, because it's not there. As for downloading books? You'll be able to get your hands on the digital copies through Kobo's online bookstore.
As for that display, as you can plainly tell it is indeed a color LCD. It has a resolution of 800x480, and it is not a touchscreen. Instead, much like the Kindle, you'll use that keyboard and side buttons to turn pages. As the title suggests, the Literati will cost you only $159 when it comes to the market in October. You'll be able to find it in Best Buy. Or, if you find yourself aching to get your hand on an eReader while shopping through JCPenney, you'll be able to pick it up there, too. And Kohl's, Bed, Bath & Beyond, and even Macy's.
[via Electronista]