Sharp unveils World's first LCD TV with built-in Blu-Ray recorder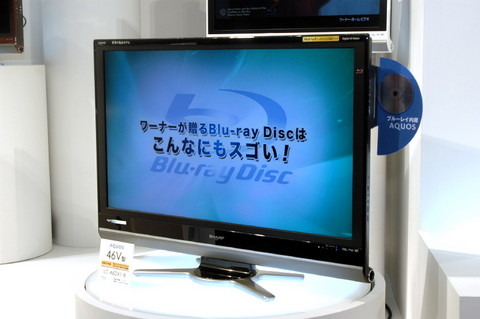 Skip the wiring; Sharp newest Aqous DX line of LCD TVs features a built-in Blu-ray recoder to simplify your home HD-media connectivity. Contents are converted and compressed at MPEG-4 AVC/H.264 format, the higher compression rate results in 5 times more storage space compare to a direct recording mode. A 50G dual layer BD media can record up to 22 hours of such content. Digital audio can be output via bitstream and video displays at native form of 1080/24p.
Besides BD, the unit is also capable of playing DVD-video as well as CD music, but doesn't have i.Link or a built-in HDD for secondary storage option. The industry first display-recorder-in-one TV is also super fast in loading the record function, it takes a mere 3-second to start capturing the pictures.
A Total of 16 newly announced Sharp Aqous DX line of LCD TVs will feature this new venture. The 52/46/42/37 series will get full HD 1080P display and capable of 15k:1 contrast and 120Hz while the low end and resolution 32/26 series will get 1366x768 panel and 1500:1 contrast. The top end 52-inch will be selling for 500,00 yen( $5,000) and more likely available in Japan only.
"LC-52DX1" 500,000 Yen ($5,000)

"LC-46DX1" 450,000 Yen ($4,417)

"LC-42DX1" 380,000 Yen ($3,730)

"LC-37DX1" 300,000 Yen ($2,945)

"LC-32DX1" 200,000 Yen ($1,965)

"LC-26DX1" 170,000 Yen ($1,669)