Sharp RD-PM10 really ought to be a MID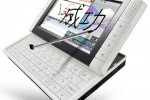 Color us frustrated: Sharp have put together a gorgeous mixture of touchscreen, tilting display and full-QWERTY keyboard, and wasted the whole thing by limiting it to e-dictionary and media playback duties.  The Sharp RD-PM10 has a 4.3-inch WQVGA touchscreen, FM radio and 8GB of onboard storage, but lacks WiFi or Bluetooth or indeed any sort of internet software.
Since media playback and checking the meaning of words doesn't exactly tax a system, Sharp have bypassed Intel's Atom platform and gone straight to TI's DaVinci TMS320DM6441 processor; under the custom UI there's Windows CE 5.0 and 128 kinds of dictionary content.  The whole thing measures a reasonably-pocketable 5.5 x 3.1 x 1.0 inches, weighs 11.5oz and has a microSD card slot to augment storage.
There are also stereo speakers, an FM radio, a 3,500mAh battery and broad media codec support that includes DivX, Xvid and OGG.  Sharp are asking 360,000 KRW ($288) for the RD-PM10 in Korea.  We have no expectations of seeing this e-dictionary anywhere near the western markets.
[via Pocketables]