Sharp Memory LCD Slashes Power Draw With Persistent-Pixels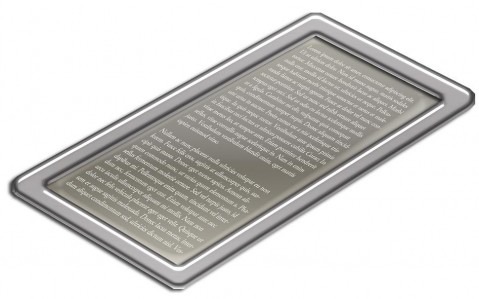 Sharp have been wowing with their display technology at the SID conference; their five-color LCD stands to revolutionize accuracy-dependent industries like graphic design, and now they're hoping to do similar things with mobile displays.  The Sharp Memory LCD is intended to drastically cut power requirements of a traditional LCD display by reducing the energy each individual pixel requires to remain in its current state.
The 1.4mm thick display pairs pixel-memory with a new reflective display technology which reduces the need for backlighting.  Thanks to that, power consumption is down to just 15 µW, compared to standard 1mW STN displays.
Right now the prototype is only 1.35-inches square, and displays a monochrome image.  However smooth-moving graphics are apparently possible, which is more than you can say about e-ink based displays; Sharp are offering them as samples for $25.  Color displays, plus different shapes and sizes, are in the works, with Sharp suggesting possible uses as including cellphones, watches, remote controls and wrist-top computers.
Press Release:
NEW MEMORY LCD ADDS TO SHARP'S© EXTENDED USE MOBILE DISPLAY SUITE, DELIVERS ULTRA LOW-POWER GRAPHIC DISPLAY OPTIONS

1.35-Inch Square Monochrome Panel First in Product Line That Delivers Key Technology Advances for Application Developers

Today, at the Society for Information Display's (SID's) Display Week 2009 conference in San Antonio, TX, Sharp Microelectronics of the Americas (SMA) introduced a new standard in ultra low-power graphic display technology with its new Memory LCD (Liquid Crystal Display). The LCD combines built-in pixel memory, high reflectance and ultra-thin mechanicals, opening up new possibilities for mobile display design. A 1.35-inch Monochrome Square model is on display at SID. The product line will soon include additional sizes, as well as color displays, and custom shapes (including octagonal and round). The panels are well suited for applications including mobile phones, watches, remote controls, and performance tracking electronics.

A unique application of memory in each pixel enables power-saving extended mobile solutions of 15 µW compared to 1mW STN solutions, and reduces refresh rate to 1 Hz. SMA's proprietary technology enhancements also include the breakthrough Polymer Network Liquid Crystal (PNLC), a reflective display technology that removes polarizers to provide high contrast and wide viewing angles in outdoor high ambient environments. Display thickness is optimized at 1.4mm, achieved by an innovative two-glass design. The panel requires only a single 5V supply, and its 3-wire serial interface also eliminates the need for external chips, saving time and investment. The display color is that of its mirrored reflective plate, which could be manufactured in any shade.

"Our goal is to provide Mobile Application developers with innovative mechanical and power management display options to bring their best design ideas to life," said Marshall Pinder, Director, Display Products, at Sharp Microelectronics of the Americas. "We hope our product advances and continued support of the extended use mobile market will pair with improvements in mobile power systems and enable continued success for developers in an increasingly-competitive playing field."

The SMA Extended Use Mobile Display Suite

1.35-inch Square, Monochrome, 96 x 96 resolution (LS013B4DN02)

The new 1.35-inch Monochrome Square LCD is loaded with features that deliver a display capable of smooth-moving graphics, with 50% reflectance and a breakthrough 15 µW power consumption. Sharp's Memory reflective LCDs are visible in a 0.5 lux environment without requiring a light source, and deliver high visibility in a variety of adverse conditions. The lightweight, thin display removes many design limitations for handheld and wrist-top applications.

LS013B4DN02 Specifications

Active Area Size 24.192(H) × 24.192(V) mm

Display Format

(Vertical Stripe Arrangement) 96 (H) × 96 (V)

Dot Pitch 0.252(H)×0.252(V)mm

Pixel Height to Width Ratio

1:1 (square)

Module Size (Without FPC)

28.2 (W) × 32.34 (H) × 1.4(D) mm

Numbers of Colors Monochrome (silver metallic, 1-bit)

Contrast Ratio 10:1

Reflection Ratio 50%

Power Consumption (No display data update)

15 μW

Display Mode (Power Off) Normally White

Supply Voltage + 5.0 V

Availability and Pricing

One-piece sample pricing for the new Sharp LS013B4DN02:

$25.00

Product samples and pricing may be obtained through any Sharp Representative or Distributor throughout the Americas.