Sharp Mebius Pad tablet PC offers Windows 8.1 and detachable keyboard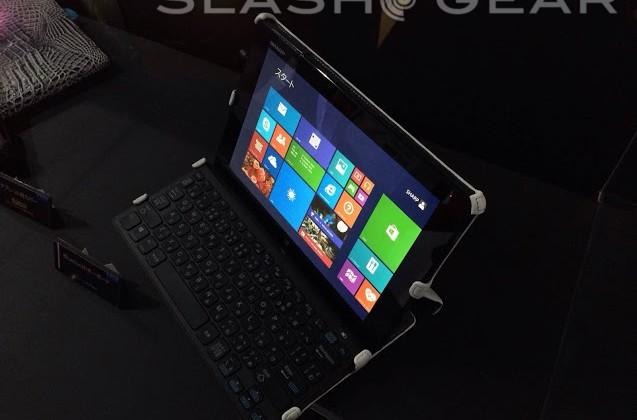 Sharp has showed off its Mebius Pad here at CEATEC 2013, where we got a moment with the device. This tablet/laptop hybrid offers a variety of features common to both tablets and PCs, running Windows 8.1 and featuring a detachable keyboard. We've got a rundown of what the system offers, as well as a few shots of the device, after the jump.
The Sharp Mebius Pad features a 10.1-inch display with a pretty high resolution of 2,560 x 1,600, which gives an aspect ratio of 16:10. The display is a capacitive touch panel, and works in conjunction with a touch pen if desired. The system runs an Intel Atom Z3770 processor, and offers support for both LTE and 3G mobile data connections.
Both Windows 8.1 and Windows 8.1 Pro are options, with the former shipping with Microsoft Office Home and Business 2013 — there's no mention of Office being included for the Pro edition, however. Giving the tablet a side of ruggedness is both dustproof and waterproof construction, and security features include a remote data deletion service to wipe the system in case it is stolen.
Right now, Sharp isn't specifying the system's dimensions and weight, nor its more particular hardware details, though that information will no doubt surface soon. The launch date is scheduled for January 2014, with no word on pricing. Hit up the gallery below to get a better look at the tablet, as well as its information card if you've brushed up on your Japanese recently.