Sharp Cocorobo robot vacuum gets smartphone app and control over your TV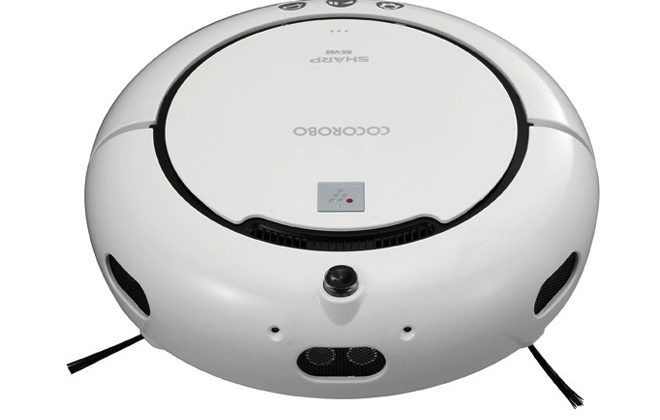 Sharp has revealed a new part of its Cocorobo smart home system, the RX-V60 robot vacuum cleaner, which can not only get rid of dust-bunnies under your couch, but send before/after photos to your smartphone. The smaller 'bot is now 29.7cm in diameter – 4.7cm less than the model it replaces – for easier scooting between table legs, and now works with a "Cocorobo Square" app that can be used to lay out floorplans, sketch precise cleaning patterns, and review photos while you're away from home. Meanwhile, an optional remote attachment, the Cocorobo Navi, can give the RV-V60 control over your TV and other appliances.
The vacuum has rotating "whiskers" to pull out dust from corners, and a HEPA filter to clean air before it's vented. It uses a combination of brushes and suction for cleaning, while navigation is via ultrasonics, which Sharp claims is more accurate and less easily confused by glass surfaces than infrared. Up to 50 minutes of runtime is promised from a 2hr charge, and the cleaner can automatically find its way back to its docking station when it's running low.
It's the control options that potentially set the RX-V60 above rivals, however. The vacuum can react to spoken commands, and report its own status verbally; however, those of a geekier nature are likely to prefer using the Cocorobo Square app for Android or iOS. That allows for remote control of the cleaner through the home, as well as viewing of photos the 'bot takes with its integrated camera.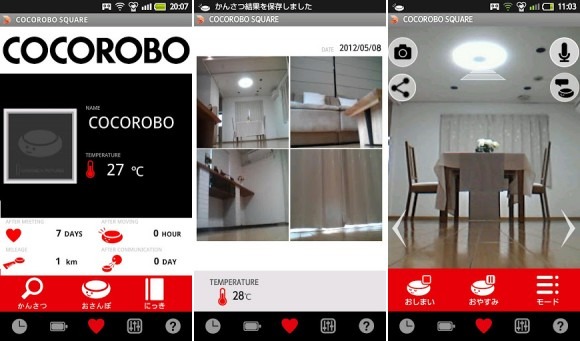 Strap on the Navi extra to the vacuum's USB port, however, and the app also allows you to control your smart home kit remotely. Sharp says it plans to update the Navi attachment to support equipment from other brands in due course. Initially, though, it will operate Sharp TVs, air conditioners, LED lights, and a Sharp ion fan.
The DigInfo team got their hands on the new vacuum and its remote adapter, which will go on sale in mid-December in Japan. The RX-V60 robot vacuum will be priced at the equivalent of around $900, while the Navi add-on will be the equivalent of around $190.