Sharp BD-HP52U AQUOS Blu-ray player arrives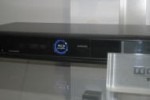 Sharp have outed their latest Blu-ray player, the BD-HP52U AQUOS, which supports BD Live content, HDMI 1.3 connectivity and streaming media.  The BD-HP52U has x.v. color and supports 1080p 24 playback, as well as Deep Color, Dolby TrueHD and DTS HD Master Audio, and a quick-start mode that promises to have you watching films faster than on rival decks.
There's obviously support for standard-definition DVDs, too, which the BD-HP52U can upscale, together with an image viewer and native AVCHD video support to make loading home camcorder footage straightforward.  When paired with a Sharp AQUOS HDTV, a single HDMI cable can not only funnel audio/video between the two but also control signals.
Finally there's an RS-232C serial port for system-integration and that elusive promise of streaming video; Sharp are saying they'll have more to announce on the latter later this month.  The Sharp BD-HP52U AQUOS Blu-ray player should be on sale in October 2009, with an MRSP of $379.99.
[image via Electronic House]
Press Release:
SHARP® INTRODUCES BD-LIVE AQUOS® BLU-RAY DISC PLAYER

WITH ENHANCED FEATURES

Deep Color for exceptional picture quality; Streaming video content and BD-ROM Profile 2.0

ATLANTA, September 10, 2009 – Sharp today expands its suite of Blu-ray players with the introduction of the Full HD 1080p BD-HP52U AQUOS® Blu-ray Disc™ (BD) player. When paired with an AQUOS HDTV Liquid Crystal television, consumers can enjoy the latest Blu-ray Disc titles, as well as standard-definition DVDs, in the highest resolution possible. The BD-HP52U will also provide consumers access to premium streaming video content* for a first-class home theater experience. The BD-HP52U also adds advanced audio decoding, additional playback options and Deep Color™ for the purest color available on video images, as well as an RS-232 port for management by external control systems.

The BD-HP52U supports BD-ROM Profile 2.0 for BD Live interactive features through an Ethernet jack-enabled Internet connection. Users can download and stream bonus content such as additional scenes, shorts, trailers and multi-player interactive games, providing the consumer full access to content otherwise unattainable.

"We continue to add new features to our Blu-ray family that raise the level of entertainment for our consumers, including enhancements to the picture and audio quality as well as wide compatibility with many formats," said Bruce Tripido, associate vice president, Entertainment Products Division, Sharp Electronics Corporation. "With this new player, consumers can tap into additional information and downloadable features for an interactive home theater experience."

Superior Video Quality

The BD-HP52U enables superior video quality with state-of-the-art HDMI 1.3 digital output with x.v. color, and 1920 x 1080 video at 24 frames per second output, matching the playback of the original film. This feature eliminates the need for frame-rate conversion that can cause motion artifacts on film-based material and degrade image quality. To further improve the image quality, the BD-HP52U incorporates Deep Color, which extends the maximum number of colors for each color component, reducing and in some cases eliminating color component artifacts.

For the best high-definition video and the highest fidelity audio in home theater today, the BD-HP52U features AQUOS Link, enabling a simple one-cable connection via HDMI® to carry a complete digital audio and video connection between the HDTV and the BD-HP52U player. Coupled with Blu-ray Disc technology, the BD-HP52U brings the multiplex experience right into the home.

High Fidelity Audio

The BD-HP52U features a next-generation audio format with full decoding, providing an immersive home theater experience. The player incorporates HQ Audio Circuits with an upgraded power supply that provides better sound and picture quality and delivers dynamic 7.1 Channel audio and true to life video. Surround-sound formats include Dolby® TrueHD and DTS HD Master Audio via HDMI digital output. The player also decodes Dolby Digital Plus, which provides optimum surround sound for appropriately equipped receivers.

Advanced Playback and Compatibility

With backwards compatibility, consumers can play their existing standard definition DVD library on the BD-HP52U. By optimizing standard DVD playback signals, the BD-HP52U can deliver better picture and sound quality. The player also features a JPEG viewer, which allows users to view favorite digital images from their CD collection on screen in a slide show format. Consumers can also record and playback high-definition digital camcorder video files with AVCHD**. The BD-HP52U is also compatible with a wide range of formats including BD-ROM/RE/R, DVD Video, DVD-RW/R, DVD+RW/R, audio CDs and MP3 Audio files.

For added convenience, the BD player includes Sharp's proprietary Quick Start*** feature for quick disc loading. For lower energy bills, both players feature low power consumption in both Power On mode and in Standby mode. The BD-HP52U also includes an anti-vibration chassis for stability and improved operation. The rigid chassis frame construction, combined with a dual-shield metal top cover, reduces the amount of vibration to the Blu-ray drive.

Pricing and Availability

• The BD-HP52U will be available in October for a Manufacturer's Suggested Retail Price (MSRP) of $379.99