Sharp AQUOS LC-65E77UM 65-inch HDTV debuts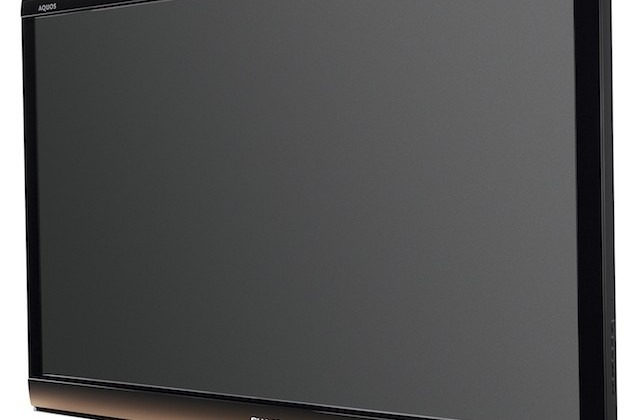 Sharp have outed two new HDTVs, and they reckon they've managed to make them both huge and "competitively priced".  The 65-inch Sharp AQUOS LC-65E77UM and 60-inch Sharp AQUOS LC-60E77UN each pack full 1080p HD resolution together with 120Hz frame rate and 4ms response time.
Connectivity includes four HDMI ports and two component video inputs, along with a single PC input and RS-232 serial port.  All of the regular processing trickery is onboard, including Sharp's Spectral Contrast Engine, Optical Picture Control, and an "Advanced Super View Superlucent Panel"; we'll have to wait for the first reviews to come in before we know whether the acronyms add up to a decent set.
As for those "value" price tags, don't expect anything too dramatic; the 65-inch set is $4,499.99 and the 60-inch comes in at $3,499.99.  Both are available now.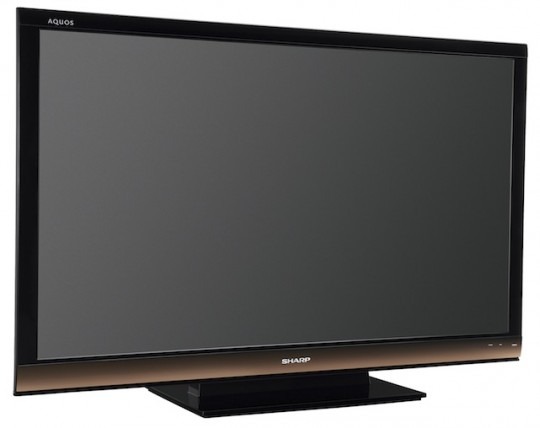 Press Release:
AQUOS LCD TVS FROM SHARPÒ FEATURE ADVANCED PICTURE QUALITY AND VALUE IN LARGE-SCREEN MARKET

65-inch LCD TV Available to More Consumers; 60-inch Represents New Screen Size

MAHWAH, N.J. – Sharp offers two competitively-priced AQUOS LCD TVs that make large-screen units with advanced performance attainable for more consumers. The 65-inch LC-65E77UM (64-33/64" Diagonal) and 60-inch LC-60E77UN (60-1/32" Diagonal) AQUOS LCD TVs join the acclaimed E77 series, filling out a lineup of Full-HD 1080p models that bring enhanced picture quality to the forefront. Additionally, the LC-60E77UN is the first 60-inch LCD TV on the market, meeting the need for a highly sought-after screen class size.

"With the increasing adoption of flat-panel display TVs, consumers expect larger screen sizes with advanced performance at a good value," said Bob Scaglione, senior vice president and group manager, Product and Marketing Group, Sharp Electronics Corporation. "The addition of the 65-inch class E77 series LCD TV and introduction of a new screen size class at 60 inches enables more consumers to bring home large-screen TVs."

The LC-65E77UM and LC-60E77UN employ Sharp's Advanced Super View (ASV) Superlucent Panel for a dramatically bright and crisp picture with reduced haze and reflectivity. They also feature Sharp's Fine Motion Enhanced technology for 120Hz Frame Rate Conversion and a fast pixel response time of 4ms, providing the ultimate medium for high-definition viewing of fast-action imagery.

The ASV Superlucent panel applies an ultra-smooth finish that minimizes haze while intensifying panel brightness and contrast. The ASV Superlucent panel with Spectral Contrast Engine XD provides high contrast, enabling deep blacks and vibrant colors, and a special dejudder feature results in the smooth reproduction of film content.

Two components of the Spectral Contrast Engine, Optical Picture Control (OPC), which automatically adjusts luminance to room brightness and lighting conditions, and Brightness Preservation picture processing, also make these models very energy-efficient. In fact, all models in the E77 series exceed the EPA's Energy Star criteria. An advanced Power Savings mode is easily accessed through a dedicated remote control button.

The large-screen E77 series provides a stunning picture and a new design sure to complement any décor. The black cabinet blends elegantly into a soft champagne gold hue that accents the bottom of the frame, befitting both modern and traditional design schemes. These AQUOS models also come equipped with a full array of connectivity options, including four HDMI™ and two component video inputs, all of which are 1080p compatible, accepting signals from Blu-ray Disc™ players and advanced gaming devices. A dedicated PC input and RS-232 port for custom installations add to the feature set.

The complete E Series includes models in 65- (64 33/64" Diagonal), 60- (60-1/32" diagonal), 52- (52-1/32" diagonal), 46- (45-63/64" diagonal) and 40-inch (40" diagonal) screen class sizes (LC-65E77UM, LC-60E77UN, LC-52E77UN, LC-46E77UN and LC-40E77UN respectively), as well as the 40-inch class LC-40E67UN (40" diagonal).

Pricing and availability

The LC-65E77UM is available now for a Manufacturer's Suggested Retail Price (MSRP) of $4,499.99

The LC-60E77UN is available now for a MSRP of $3,499.99

For more information on Sharp's full line of Liquid Crystal Televisions, contact Sharp Electronics Corporation, Sharp Plaza, Mahwah, N.J. 07495-1163, or call 800-BE-SHARP. For online product information, visit Sharp's Web site at sharpusa.com. Become a fan of Sharp AQUOS at www.facebook.com/SharpAQUOS.