Sharkoon shows off new SATA QuickPort Home docking station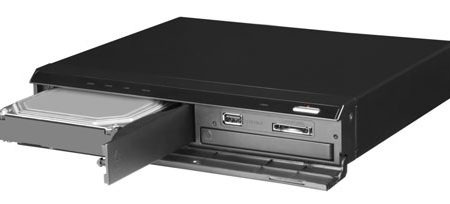 Sharkoon has a number of docking stations for HDDs and other storage media in its lineup of gear. The latest new product from the company is aimed at letting you watch your digital media in the living room with a docking station that looks more like a home theater component than something to go with a computer.
The new docking station is called the Sharkoon SATA QuickPort Home and supports the docking of 2.5" and 3.5" HDDs. The device also has a memory card reader and a USB port for directly connecting storage devices. The device is aimed at use with a HTPC in the living room and can connect to the PC with USB 2.0 or eSATA connectivity available.
The device measures 240 x 206 x 47.5mm and weighs 950 grams without the hard drives. The machine can be used with Windows XP, Vista, and 7. The device is shipping now and sells for 49.90 Euros.