Sharknado 3: first trailer ahead of July premiere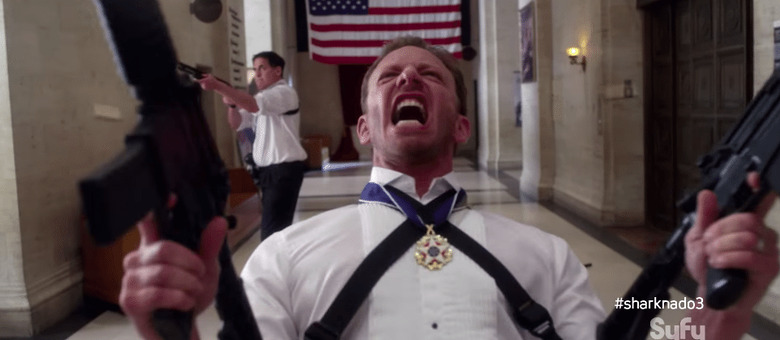 In mid-March it was confirmed that SyFy's absurd but oddly lovable Sharknado movie is getting a third installment, which will be premiering on the network next month. A bunch of details were dropped last month, but there was nothing more than a single teaser image, and it was mostly composed of just the "Sharknado 3" logo. Now that the launch is almost upon us, though, we've gotten a look at the movie's first teaser trailer (which, of course, we have after the jump).
The trailer is short, not surprising since it is a teaser, and it is completely absurd, largely kicking off with a big shark falling out of the sky and into the Lincoln Monument statue's lap. "Not again," you hear quipped amidst gun fire.
The movie is officially called Sharknado 3; Oh Hell No!, and it will be premiering on Syfy on July 22 at 9PM central time. This movie is set in Washington D.C and the east coast in general.
Said Syfy's SVP of Program Strategy Chris Regina back when the movie was first announced, "Sharknado 3: Oh Hell No! embraces the larger-than-life irreverence that has made these movies so popular and entertaining." The movie stars Tara Reid, Ian Ziering, Mark Cuban the US President, and more.
VIA: Digital Trends