Set up your own Blu-Ray factory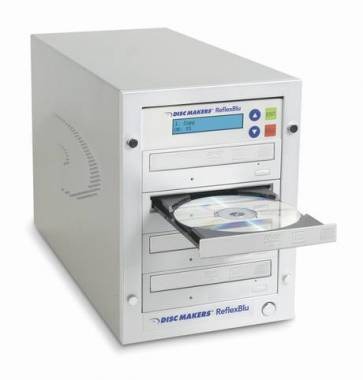 DVD pirates take note!  Optical media duplication specialists Disc Makers have launched ReflexBlu, a standalone Blu-Ray drive capable of burning multiple discs simultaneously.  Of course, SlashGear in no way condones copyright theft – remember, kids, Steven Spielberg deserves money too – so legitimate uses for this stack of burners could include making copies of your holiday movies, copies of CCTV footage from a camera in an owl hut, or copies of that Christmas morning when you thought you were getting a PS3 but in fact got a George Foreman grill.
There are two models available, the ReflexBlu2 which has a burning throughput of two Blu-Ray discs per hour, four DVD-Rs or 7 CD-Rs, and the ReflexBlu4 which can do double that amount.  The former retails for a not inconsiderable $2,999, the latter a frankly astonishing $4,999, and both come with software, USB connectivity and a built-in 250GB hard-drive for storing up to nine complete Blu-Ray disc images.