Sennheiser get iPhone friendly with latest headphone range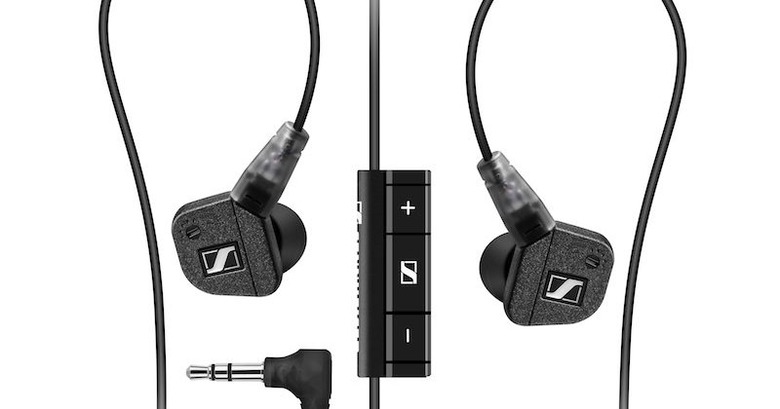 Sennheiser's latest headphone range has been outed, and the company is resolutely targeting iPhone users.  That basically means that the Sennheiser MM 70i, IE 8i, PX 100-IIi, PX 200-IIi, HD 218i and HD 238i each get a microphone and remote control block in-line in the cable, which also controls voice commands on compatible Apple PMPs.
That means the iPhone 4, iPhone 3GS and the latest iPod Touch, each of which have Voice Control, though the rest of the controls will work with most recent models.  That includes the iPhone 4, iPhone 3GS, iPad, iPod Shuffle (3rd and 4th generation), iPod nano (4th and 5th generation), iPod Touch (2nd generation), iPod classic (120 GB/160 GB), and 2009 models of Macbook, Macbook Pro and Mac Pro.
More details on each in the press release below; pricing kicks off at $79.95 for the HD 218i Closed, and climbs all the way up to $449.95 for the IE 8i in-ear reference headphones.
Press Release:
Made for iPhone: Sennheiser presents headset versions of six popular portable headphones

The Sennheiser HD 238i Open mini headphones with in-line microphone. (click on image for hi-res)

Old Lyme, Conn. – September 27, 2010 – Listen to music and have conversations using six new Sennheiser headsets specially designed for the iPhone 4, iPhone 3GS and other Apple products*. All six versions—the MM 70i, IE 8i, PX 100-IIi, PX 200-IIi, HD 218i and HD 238i—are based on Sennheiser's successful "Portable Entertainment" series. The microphone and smart remote control unit are integrated into the cable and allow the Apple product to be controlled at the push of a button or by voice commands.

"The new headsets complement the design and user-friendliness of the iPhone—including the new iPhone 4—and other supported Apple products with top-quality Sennheiser sound and intuitive control functions," explained Eric Palonen, senior product specialist for consumer electronics at Sennheiser's US headquarters. The headsets automatically pause the music when a phone call is taken, allowing the iPhone user to switch easily and quickly between music and calls without the risk of missing any incoming calls or favorite tracks.

Compact control unit, high functionality

A wide range of functions can be controlled with a single button. Depending on how often and how long the button is pressed, music tracks and videos can be played, paused or skipped to the next/previous song. The same button can also be used to receive and end phone calls and to activate the voice control function. This Apple function makes it possible to use voice commands to retrieve songs or phone numbers on the latest iPod Touch version and the iPhone 4 and 3GS. The volume can be conveniently controlled using the plus and minus button.

The Sennheiser IE 8i High-end ear-canal earphones with in-line microphone.

Sound precision for professionals: IE 8i

The IE 8i headset features extremely lifelike sound reproduction and also allows individual bass adjustment to suit different listening needs and tastes. The precision and clarity of its sound will delight even the most demanding music lovers. Various adapters are included to ensure a comfortable, snug fit just inside the ear canal.

Sound with style: MM 70i

The eye-catching MM 70i ear-canal earphones are perfectly designed for mobile use, combining clear stereo sound and rich bass. The headset comes with six ear adapters made of silicone to provide an ideal fit for every user, and to effectively seal out ambient noise.

Pocket size: PX 100-IIi and PX 200-IIi

The PX 100-IIi and PX 200-IIi models show that big sound doesn't need much space. After use, the two particularly lightweight on-the-ear headsets can simply be folded up

The Sennheiser PX 100-IIi open, foldable mini headphones with in-line microphone. (click on image for hi-res)

into a pocket-sized package. The PX 100-IIi, with its open-back design, offers lifelike sound reproduction and powerful bass. The PX 200-IIi is particularly suited for use in somewhat noisier environments. Its closed design effectively blocks out exter-nal noise, allowing you to listen to music in peace—without being disturbed and without disturbing others.

Sleek design, rich sound: HD 218i and HD 238i

The HD 218i and HD 238i on-the-ear headsets feature an attractive, sleek design. Sennheiser's proven acoustic systems ensure that both models offer powerful sound. The HD 238i is more balanced, while the HD 218i features stronger low-end response for bass lovers.

The remote control function on all six models is compatible with iPhone 4, iPhone 3GS, iPad, iPod Shuffle (3rd and 4th generation), iPod nano (4th and 5th generation), iPod Touch (2nd generation), iPod classic (120 GB/160 GB), and 2009 models of Macbook, Macbook Pro and Mac Pro. Voice Control is supported by iPhone 4, iPhone 3GS and the latest iPod Touch. The new product range is available world-wide through Sennheiser's dealer network and at Apple Online and in Apple Stores.

Product overview (click links to view hi-res images):

IE 8i High-end ear-canal earphones with in-line microphone

MSRP: $599.95 Street price: $449.95

MM 70i Balanced ear-canal earphones with in-line microphone

MSRP: $129.95 Street price: $99.95

PX 100-IIi Open, foldable mini headphones with in-line microphone

MSRP: $119.95 Street price: $89.95

PX 200-IIi Closed, foldable mini headphones with in-line microphone

MSRP: $139.95 Street price: $109.95

HD 218i Closed, mini headphones with in-line microphone

MSRP: $99.95 MAP: $79.95

HD 238i Open mini headphones with in-line microphone

MSRP: $169.95 MAP: $129.95