Sennheiser announces PC 11 and PC 100 VOIP headsets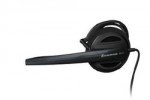 When it comes to notebooks and desktop computers and you want to do VOIP chat, games and voice calls, you need a headset with a mic. Sennheiser has been making some of the best headphones on the market for a long time and today the company has announced two new headsets specifically for computer users.
The two headsets are the PC 11 and PC 100. The PC 11 is a single sided headset that has a mic and ear hooks to allow it to be worn on the right or left ear. The PC 11 needs only one hand to operate is compact for easy transport. The mic is an omnidirectional unit that offers excellent quality and picks up everything you say.
The PC 100 is more like a set of ear buds for your iPod than the typical set of headphones for a computer. The compact in-ear design allows for long term wear with comfort. Sennheiser also designed the PC 100 headset to be usable with MP3 players and other devices with 3.5 mm headphone jacks. The PC 100 is set to hit stores in October with the PC 11 coming in November.