Sennheiser AMBEO brings 3D audio to Karma's 2020 Revero GT hybrid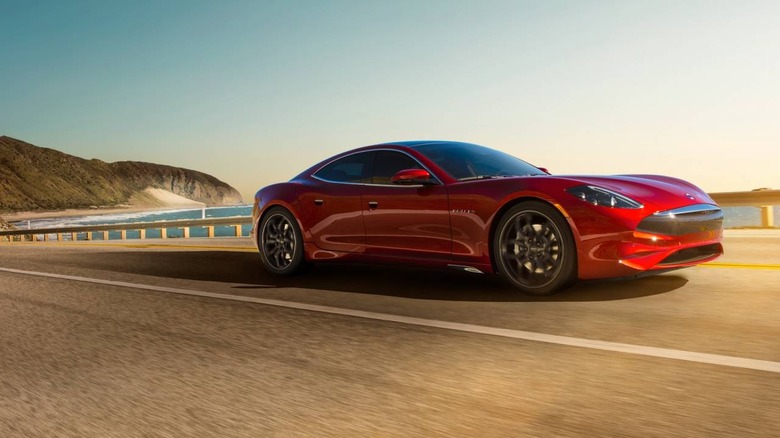 Sennheiser's AMBEO sound system is going mobile, taking the leap from sound bars to its first in-car installation inside the 2020 Karma Revero GT luxury EV. AMBEO promises immersive 3D surround sound regardless of where you're sitting or, indeed, whether the original music you're playing was recorded in a 3D format.
It's proved impressive in Sennheiser's sound bars for the living room, where a handful of speakers can deliver audio similar to what you'd expect in a movie theater. The recently announced AMBEO Soundbar, for example, puts 13 drivers into a single unit, for a 5.1.4 surround sound setup that doesn't demand a separate subwoofer.
Now, that technology is coming to the car. Specifically, it'll be showcased at Pebble Beach later this month, when Karma Automotive brings the 2020 Revero GT to Monterey Car Week. While familiar in design to the Fisker Karma, the Revero GT changes more than just the name.
A 1.5-liter turbocharged BMW gas engine acts as a generator, with dual electric motors; total power is now 535 horsepower, with torque clocking in at 550 lb-ft. 0-60 mph comes almost a second faster than before, at 4.5 seconds. All-electric range is 61 miles, courtesy of a 28 kWh battery, while the gas engine can stretch that by a further 280 miles.
While you're gliding along in electric mode, you'll be able to pay particular attention to the custom AMBEO system that will debut on the Revero GT. That uses a multi-channel speaker configuration, arranged in two main layers, and a subwoofer. Speakers have been integrated into the headrests, too.
Listeners will be able to adjust the immersiveness of the sound, and control their position within the soundstage, through the infotainment system. That's also where the AMBEO upmix algorithm – turning regular stereo audio into 3D – can be tweaked.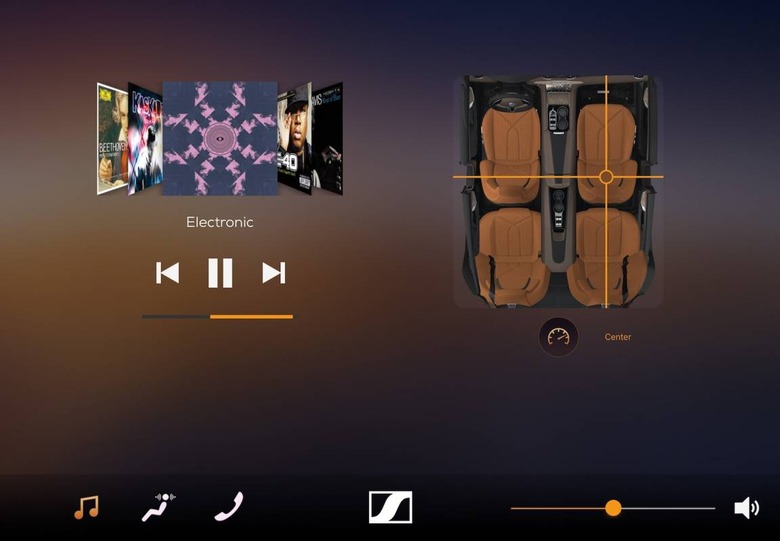 It's not just playback which has been the focus of Sennheiser's work, however. Beamforming microphones are used for voice calls, supposedly allowing the driver to be clearly heard even if music or other conversations in the car continue.
In-car audio can be an unexpectedly difficult thing to get right. While the cabin of a car does have some advantages, mainly in that you can pretty much guarantee where listeners will be sitting and thus target those "sweet spots" accordingly, they can be outweighed by the challenges a vehicle presents. Fitting speakers – and the empty space they need to resonate – into a space-constrained vehicle is one issue, not to mention competing with engine and road noise, vibrations, and odd reflections from the dashboard, seats, and other components.
Digital processing has stepped in to address many of those headaches. High-end audio systems for cars aren't new, but in recent years we've seen advanced modeling implemented for playback that sounds more like the original recording.
Unsurprisingly, then, it has taken Sennheiser some time to get this AMBEO for automotive system right. The company has been working for more than two years on the technology, it claims. "The main challenge was to bring immersive high-quality audio into the complex and difficult environment of the car, which is quite unlike our usual use cases for immersive audio and beamforming technologies," Dr. Véronique Larcher, Director AMBEO Immersive Audio at Sennheiser, says.