Self-driving shuttle crashes in Vegas on first day, but a human is to blame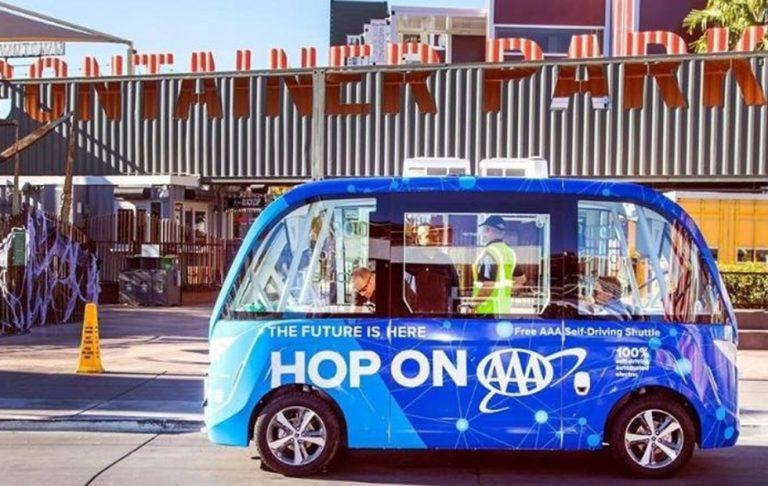 Automotive accidents happen every day, and humans are the cause of the vast majority of them (as opposed to road conditions, mechanical failure, etc). Self-driving vehicles aim to curb these human-related errors by automating the entire process, putting machines in control of what is currently performed by humans. One such autonomous vehicle, a shuttle in Las Vegas, was recently involved in a wreck.
Vegas's self-driving shuttle is operating in real-time traffic, a first for any city in the nation, and so it is being closely watched by many. That made the crash it was involved in on its first day of operation particularly newsworthy, but some are too quick to blame the self-driving machine for what has turned out to be a human error.
During its first hour of operation, the autonomous shuttle was involved in a minor wreck with a delivery trust; local news 3LV says the delivery truck's driver was cited for the accident. Las Vegas officials provided details on the incident, describing it as being so minor that the shuttle was merely "grazed" by the truck.
"The shuttle did what it was supposed to do, in that it's sensors registered the truck and the shuttle stopped to avoid the accident," the city said in a statement. "Unfortunately, the delivery truck did not stop and grazed the front fender of the shuttle. Had the truck had the same sensing equipment that the shuttle has the accident would have been avoided."
This highlights the same reality mentioned above — that most auto accidents are the results of human mistakes. Humans, being humans, are prone to mistakes for many reasons: distraction, exhaustion, and more. Machines, though, aren't prone to such issues, instead relying on hardware and software to work correctly. Thanks to this technology, multiple self-driving vehicles could communicate with each other and work in harmony in a way that isn't quite possible with human operation.
SOURCE: 3 News Las Vegas