Segway PT i2 Ferrari Limited Edition - $12k for a fancy paint job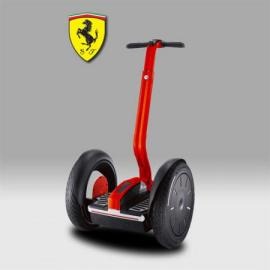 When you think about a Segway, I'm sure that the term "speed demon" doesn't exactly come to mind. Ferrari, now that's a name that is synonymous with speed. Oddly enough, these two companies have teamed up to produce the Segway PT i2 Ferrari Limited Edition.
I hope that I'm not the only one that sees the irony in this unlikely alliance. So what exactly is the benefit of purchasing the Ferrari-branded Segway? Well, it bears the classic Ferrari colors and the Ferrari logo. Oh it has leather handlebars too.
You'll pay a whopping $12,000 for the cool paint job and leather handlebars. Seriously, just whip out the old can of spray paint and wrap the handlebars yourself, you'll save a ton of cash.
Segway's Ferrari edition (that's right) [via crave]