Sega robot cat wins my heart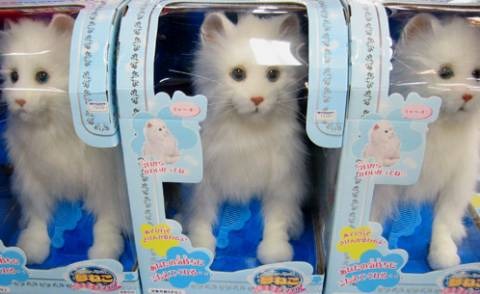 When they were at their peak of popularity, I had a Furby.  And as I'm sure was the case with a lot of other Furby owners, the batteries were removed long before they had run down.  The damn thing was just too annoying, what with the nonsensical bleating and seeming inability to stay switched off.  I thought I'd learnt my lesson about robotic pets.Sadly, I haven't.  My goal in life today is to acquire one of Sega Toys' Yume-Neko Smile robot cats. 
Apparently designed for people who through time, ability or tenancy agreements are unable to have a real pet, the "Dream Cat Smile" has five body sensors that allow it to respond to all the petting and fussing you can give it.  It'll also move around, as shown in this Sega advert:
Costing, as far as I can tell, 8,379 Yen (around $70), I am now going to email Sega Toys and beg them to send me one.
Yume-Neko Smile [via Pink Tentacle]