Secure your data with the Aegis Bio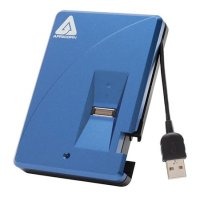 Portable hard drives are great for backing up all of your important data. Data that you probably wouldn't want someone to look at. Yet, they are the easiest to just swipe and take off with. So how do you secure your portable drive?
The easiest way I can think of is to get a drive with a biometric scanner like the Bio from Aegis. It has the ability to store up to 10 different fingerprints, so you can let a select few people access it. Or just scan all 10 of your fingers, though it would be pretty pointless.
The drives are secured with 128-bit hardware encryption and range from 80GB to 160GB in size. Prices start at $199 for the 80GB model.
Aegis Bio hard drive relies on biometrics [via coolestgadgets]