Secret Diary Software For Securing Your Thoughts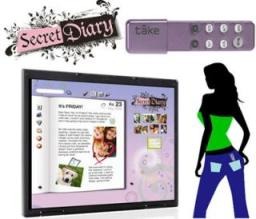 If you want to keep a traditional journal–you know, not a blog?–but have apprehensions about keeping your personal thoughts in an insecure book, Secret Diary might be the right software choice for you. With an all digital diary, your secrets are safe yet easily accessible to you for the future.
The Secret Diary looks like a particularly girly USB flash drive, but it's really your journal. In order to view its contents, you have to type in a 4 digit PIN number on the numeric keypad. This data is encrypted and store on a 256-bit AES crypto.
Interestingly enough, if anyone ever attempts to hack into your journal, the contents will self-destruct. But in everyday normal use, the software provides plenty of features to keep your thoughts organized and personalized.
[via Coolest Gadgets]