Secret 18th century message found in Jesus statue's hollow rump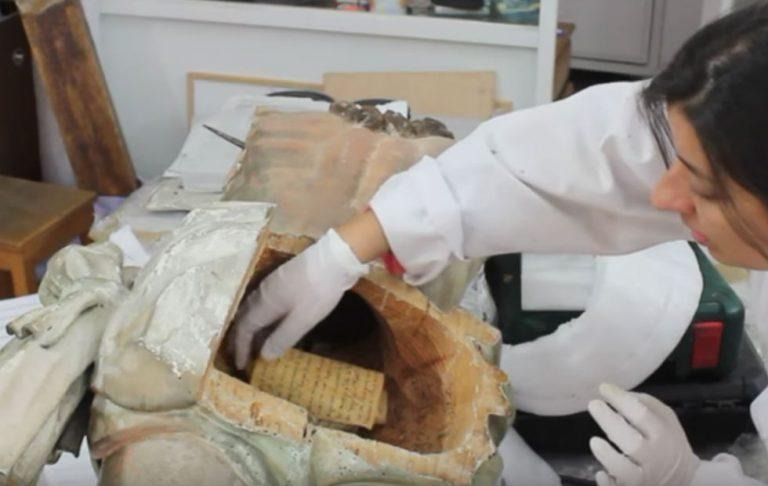 Experts were recently surprised to discover a secret 18th century message located in the hollowed butt of a wooden Jesus statue. The statue, which was undergoing restoration after being removed from a church in Sotillo de la Ribera, Spain, contained a removable piece over its backside. Upon removing it, the conservators discovered a document that is described as a time capsule; it seems it was hidden so that it wouldn't be found for hundreds of years.
The time capsule is a document dating back to the 18th century; it was created by chaplain of the Cathedral of Burgo de Osma, Joaquin Minguez, who hid it in the statue. The document is comprised of two pieces of paper, each side covered in handwriting that describes things about the region at the time.
The writing is said to include information about crops grown in the area at that time, among them being things like oats and barley, plus which diseases the people were facing, like typhoid fever, and how the people were entertained — with things like sports and card games. The document also describes events that were happening at the time, who was ruling, and information about who created the statue.
According to local publication EFE Agency, the document also provides some basic info about the general region, such as the existence of a Mail and Gazette.
Given that it describes the region as it existed at that time, it appears the priest intended for the note to be found and read in the future, at a time when that information may not be so readily available and when times have changed drastically enough to make such a note interesting.
The video above shows the backside of the Jesus statue being removed and the document within.
SOURCE: Science Alert