Second Soyuz MS-14 docking attempt was a success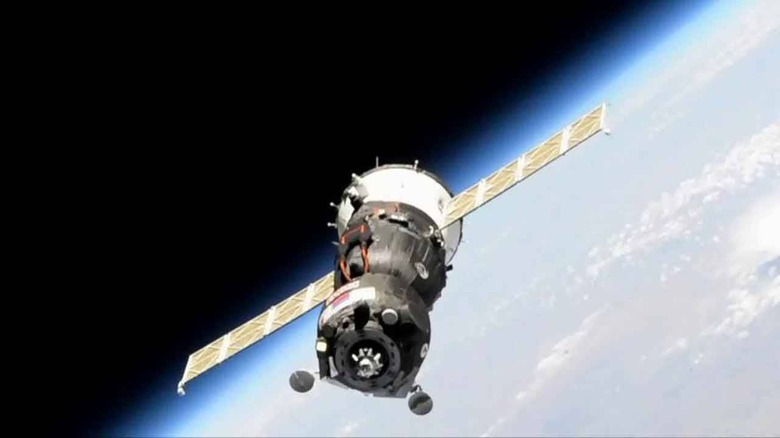 Last weekend an uncrewed Soyuz MS-14 spacecraft attempted to dock with the ISS, and the docking attempt was aborted. Russian officials aborted the docking attempt suspecting a problem with a component that is associated with the Kurs automated docking system for the Poisk module docking port. The spacecraft was able to dock successfully at a different docking port last night.
ISS managers ordered the Soyuz capsule to back away from the station after the initial failed attempt over the weekend when it was within 100 meters of the Poisk module. The vehicle was unable to achieve a solid telemetry lock to that docking port using the automated rendezvous system. The Soyuz is currently orbited at a safe distance from the ISS with all systems functioning normally until the second docking attempt was made.
NASA and other officials were clear that the crew aboard the ISS were never in danger during the initial failed docking procedure. The second attempt to dock the Soyuz happened Monday at 10:12 p.m. Central time. The second, and successful, docking attempt was performed at the aft port of the Zvezda Service module.
The crew had checked the Zvezda module Kurs system prior to the docking attempts, and it was in perfect working order. The docking of MS-14 at the backup port required Alexander Skvortsov of Roscosmos, Luca Parmitano of the European Space Agency and Drew Morgan of NASA  to undock the Soyuz MS-13 spacecraft that has been docked at the Zvezda module since July 20.
The spacecraft was undocked for 25 minutes while it relocated and docked manually with the Poisk module. The suspected failed Kurs rendezvous unit of the module wasn't a factor in the relocation maneuver. This was the first Soyuz relocation since August 2015 when a similar relocation was performed for Soyuz TMA-16M.