Second-Gen Sony VAIO P up for sale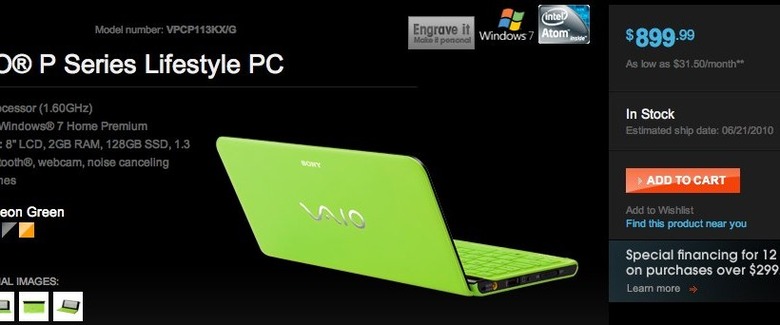 Sony's second-generation VAIO P has now gone on sale through the company's Sony Style online store, a week ahead of its expected debut.  The VAIO P – which refits the original ultraportable with bright new casing choices, a new navigation system and some mildly fettled specs – had originally been tipped for a June 25th release, with preorders kicking off earlier this month.
It also starts at $899.99, $100 less than the original model, complete with a 1.6GHz Intel Atom Z530 processor, 2GB of RAM and a 128GB SSD. WiFI b/g/n and Bluetooth 2.1+EDR are standard, while integrated Verizon WWAN is an option.  The display is 8-inches and 1600 x 768, and Sony reckon you'll see up to 4.5hrs of standard use at the default brightness.
[via Pocketables]