SealthArmor Announces iPad 2 Full Body Kit

Behold the excellence of StealthArmor, that sweet group that makes sheets of essentially the most hardcore "skin" protection you can get for your gadgets – or so some say. Before we continue here, take a look back at our review of the last time we had a quite comparable StealthArmor product on our hands. The group has now fast-forwarded to the present with a brand new set of shoes, a total cover for the iPad 2 without sacrificing the inherent beauty of the device itself.
Image above pictures original iPad StealthArmor
What this new skin for the second iteration of the iPad consists of is a similar skin to what StealthArmor has been offering for a while now, a protective film to block scratches from your most precious of beautifully designed tech objects. Starting today, the group that makes StealthArmor, Fusion of Ideas, is taking pre-orders for StealthArmor for iPad 2 at a totally cheaper price than normal, selling them for $35 for a full-body kit rather than the usual $45. And there's more than one kind!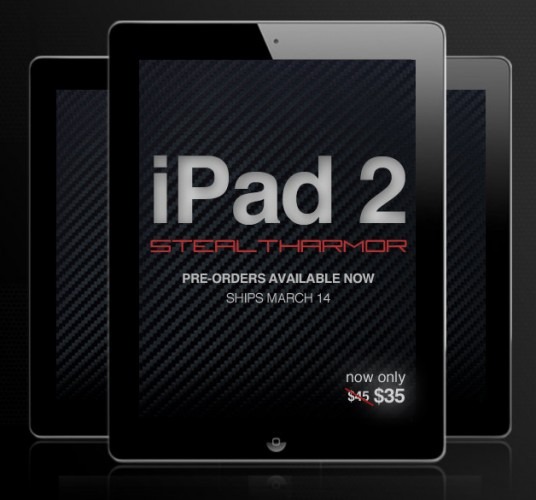 There's a whole "wide range" of finishes that you're able to choose from, black carbon fiber, polished wood grain, brushes aluminum, all of it made of an extremely thin layer of material meant to keep the loveliness of your device intact right along with the actual physical state. The skin is made of a thin layer of damage-resistant polymer made from the same material used to protect paint jobs on race cars. Hardcore!
Not only all this, but StealthArmor is no normal sticker – to apply, you'll need a heat source (such as a hairdryer) which activates the adhesive. This means, basically, a perfect application every time. Take a peek at the press release for the iPad 2 version below:
Stylish StealthArmor Protection from Fusion of Ideas Now Available for iPad 2

03.09.2011– StealthArmor protective film, the perfect complement to the world's most beautiful handheld devices, is now available for Apple's revolutionary iPad 2. Beginning today, Fusion of Ideas is taking pre-orders for StealthArmor for iPad 2 at the discounted price of $35.00 for a full-body kit, normally retailing at $45.00.

"We live, breathe and worship Apple's unparalleled product design," said Russ Taylor, President and Founder of Fusion of Ideas. "As a result, we've become experts at ensuring our products are just as sleek and just as stylish with each new generation of product that enters the marketplace."

StealthArmor for iPad 2 is available in a wide range of finishes sure to please any palette, from black carbon fiber to bright purple, polished wood grain to brushed aluminum. Unlike other protective cases that are made of bulky plastic, rubber or other kind of mystery material that all too often hides the beauty of the device, StealthArmor exudes a premium look that works to enhance the beauty of the device. StealthArmor is made from a thin layer of damage-resistant polymer developed from the same material used to protect the paint jobs on race cars. The end result is a beautifully wrapped device that offers quality protection from scratches and dings.

StealthArmor is quick and easy to install. For the iPad 2, installation will require the use of a heat source (such as from a hairdryer) to activate StealthArmor's adhesive technology which, when applied properly, will result in a perfectly smooth finish, even around curves and corners. Tips and tricks to install StealthArmor can be found here. StealthArmor can also be easily removed leaving behind zero residue for those who enjoy customizing their device frequently.

Customers may pre-order and purchase StealthArmor for iPad 2 by visiting www.fusionofideas.com and enjoy the $10 savings off regular price of a full-body kit, which includes a clear front protective screen and custom back finish, through March 31, 2011.