Seagate certainly isn't new to the wireless external hard drive business — they released the Satellite drive a couple months ago, and they're back here at CES 2013 to show off the successor to the Satellite, the Wireless Plus. We ended up getting our hands on the new storage solution to see what this new edition offers.
Essentially, Seagate booted up the storage to 1TB (from 500GB), doubled the battery life (now 10 hours), made it smaller, and kept the price the same as its predecessor ($199). The drive comes with the company's adapter system, where you can plug in and swap out different interfaces (even Thunderbolt) and use it as a normal external hard drive.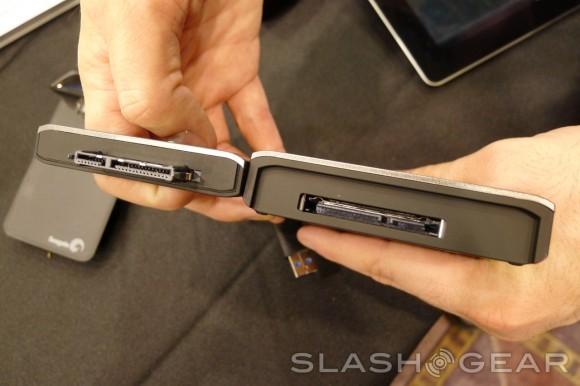 As far as size and weight, the Wireless Plus is still a bit large, but it's smaller than its predecessor and is only barely larger than Seagate's regular hard drives. It can also connect up to eight mobile devices over its WiFi network, which by the way creates its own WiFi network to connect to tablets and smartphones, so there's no need to be around a home WiFi network.
The Wireless Plus comes with a USB 3.0 adapter to use as a regular hard drive, and it's priced at $199. Pre-orders start today, and the device is expected to ship in 1-2 weeks.