Seagate Wireless Plus Mobile Device Storage keeps your content with you on the go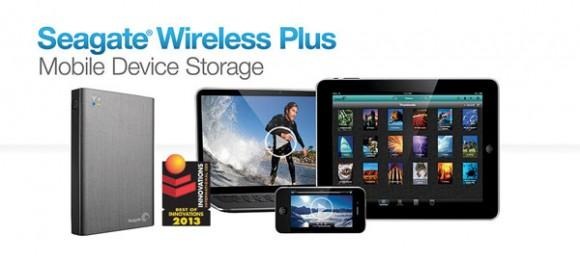 Seagate has unveiled a new storage device aimed at mobile users at CES 2013 called the Wireless Plus mobile device storage. The storage device is designed to wirelessly stream content to up to eight connected smartphones or tablets. The storage device has one terabyte of capacity.
One terabyte of storage space is enough room for up to 500 high-definition movies. The integrated drive also has an internal battery that lasts for up to 10 hours of use per charge. Content on the storage device can be accessed from smartphones and tablets using the Seagate Media app.
The app is available for Apple iOS, Android, and Kindle Fire HD devices. In addition to being able to store and stream video, the device also supports sharing of photos, music, and documents. The storage drive also supports Apple Airplay. The Wireless Plus also supports apps that are available for Samsung's smart TV and Blu-ray players.
The storage drive features a removable USB 3.0 adapter allowing for quick transfers of large photo, video, and music files. The device also creates its own Wi-Fi network so you can use it to connect to smartphones and tablets in areas where there is no available Wi-Fi connection. The Seagate Wireless Plus device is available now for $199.99.