Seagate unveils 6TB nearline hard drive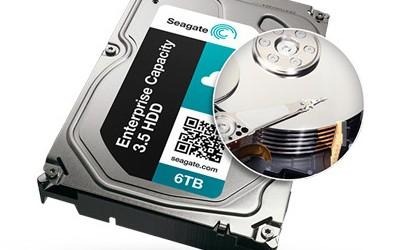 Storage powerhouse Seagate has unveiled their latest nearline hard drive. Available in sizes up to 6TB, Seagate's offering promises improved performance as well as secure encryption. Seagate and LaCie ar also saying it offers ten times the workload rating of desktop drives.
The Seagate Enterprise Capacity 3.5 HDD offers storage options from 1TB up to 6TB, increasing by a single terabyte with each step up. There are also three different interfaces to choose from: SAS at 12GB/s, SAS at 6GB/s, or SATA at 6GB/s. Seagate notes their newest is built on "eighth-generation platform and optimized for 24×7 storage environments".
Seagate also says the 3.5 HDD is built to handle nearline workloads of up to 550TB annually. Their various interface options should make it an easy integration for those who need it, and an impressive MTBF of 1.4M hours on all drives. Additionally, Seagate boasts of a 25% areal density, rounding out the impressive performance stats. For a nearline enterprise solution, it may not get better than this.
Though the 6TB option is not yet available, drives up to 4TB are. In examining the pricing structure of their other drives, it looks like the 6TB variant will retail right around $500, but that's just an estimate. Seagate hasn't announced when the larger storage options will be available.
Source: Seagate