Seagate GoFlex TV HD Review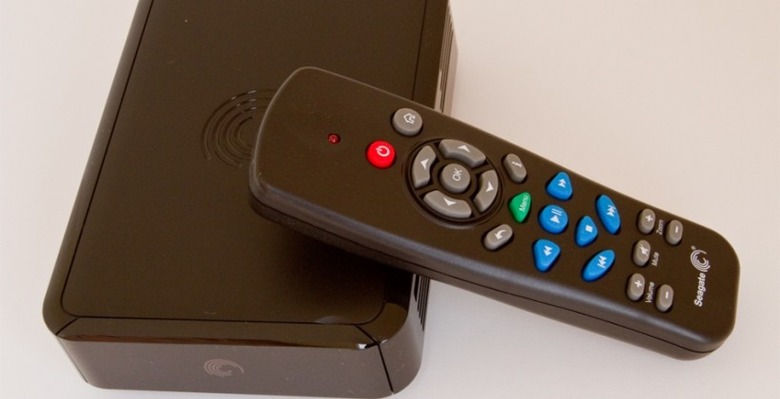 Back when we reviewed the Seagate GoFlex HDD we concluded that, while the concept of an external drive with interchangeable cables was reasonable, we thought it would make more sense when used with the company's multimedia docking stations. Happily that's just what we have on the SlashGear test bench today, the Seagate GoFlex TV HD, a standalone media player that boasts compatibility not only with the company's own GoFlex drives but with any USB storage.
Outwardly it's not exactly the most eye-catching of devices, a gloss-finish black plastic box roughly the size of a book. Up front is a hinged door hiding the GoFlex drive bay, on the side a single USB 2.0 port, and along the back are power, component and composite outputs (both requiring the included adapter cables), digital S/PDIF, an HDMI 1.3 port, a 10/100 ethernet port and another USB 2.0 port. Seagate also bundle an infrared remote control and an ethernet cable, though there's no integrated storage.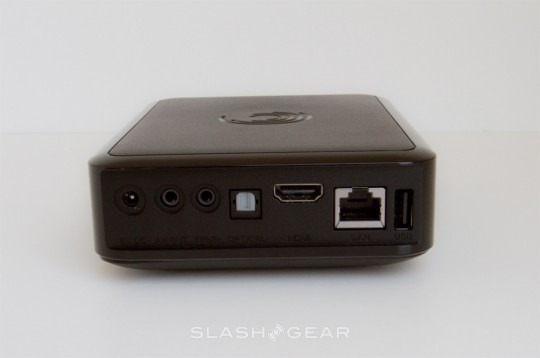 That's because the GoFlex TV HD is intended to be used with your existing GoFlex HDDs, or at least that's what Seagate are hoping. It's certainly the slickest solution: open the bay, push in the HDD and the SATA connector hooks up and leaves you navigating the drive's content via the on-screen UI and the remote. If you haven't bought into Seagate's interchangeable-connector platform, or you want to augment it with other drives, thumb-drives or even plug in your digital camera, you can use either of the USB 2.0 ports.
If you've plugged in a DVD player or cable box you shouldn't have much trouble with the GoFlex TV HD. Easiest is HDMI – a single cable carrying video and data – but the bundled composite and component adapters are straightforward too. If you've a separate A/V receiver then you can hook up the Seagate's S/PDIF digital audio output; it supports Dolby Digital among other formats. An ethernet connection isn't necessary, but it does add some useful internet-based functionality – more on which in a moment – and Seagate will also sell you a USB WiFi adapter which takes up one of the ports but does mean you can avoid another trailing cable.
The GoFlex TV HD's UI is straightforward and not especially glamorous, though it gets the job done. The main menu has options for movies, pictures (up to 20-megapixel shots supported), music, internet and "browse", the latter of which isn't a web browser but a more simple file manager view of the drive's contents. Underneath are shortcuts to internet services, like Flickr, YouTube, Picasa and others, while at the bottom are shortcuts to connected devices like TVs or media streamers hooked up over the network using UPnP. The remote has basic controls – navigation, playback, volume and menu – and feels reasonably responsive, though there's a little slow-down on drives that are packed full of content.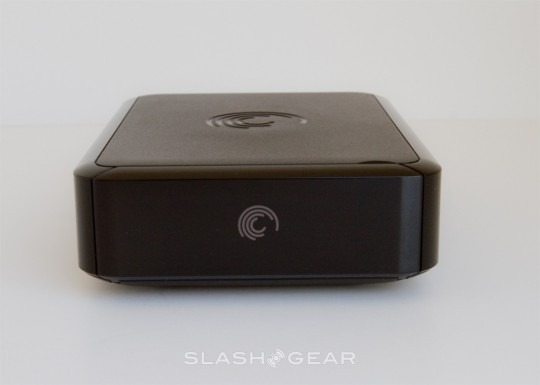 For basic local media playback it's a matter of choosing the content type and hitting play – the GoFlex TV HD supports a broad range of video codecs (MPEG-1, MPEG-2 (VOB/ISO), MPEG-4 (Xvid), DivX®, DivX HD, Xvid HD, AVI, MOV, MKV, RMVB Real Media, AVC HD, H.264, WMV9, VC-1, M2TS, TS/TP/M2T) at up to 1080p HD resolution, audio codecs (AAC, MP3, Dolby® Digital, DTS, ASF, FLAC, WMA, WMA Pro, LPCM, ADPCM, WAV, OGG) and photo types (JPEG, MJPEG, BMP, GIF, PNG, TIFF) – and the quality is decent, presuming your original file is up to scratch. Viewing content over the network is a little trickier, predominantly because file size and network capacity enter the equation. With nothing else hooked up we managed to stream a 1080p Full HD video via the Seagate's 10/100 ethernet port, but as soon as we connected anything else to the network we started seeing dropped frames. Lower-bitrate files were more resilient, though we still wish Seagate had opted for a gigabit ethernet port.
As for internet-based content, its usefulness depends on what online services you use. The GoFlex TV HD supports Netflix, YouTube, Paramount, vTuner, Mediafly, Picasa and Flickr, as well as offering video and text RSS feed support and custom finance and weather widgets. You can't do anything as complex as add Netflix titles to your Instant View queue, or upload a video to YouTube from a connected camcorder (or, indeed, photos to Flickr from a connected camera) but it's a simple way of watching video and galleries on your biggest screen.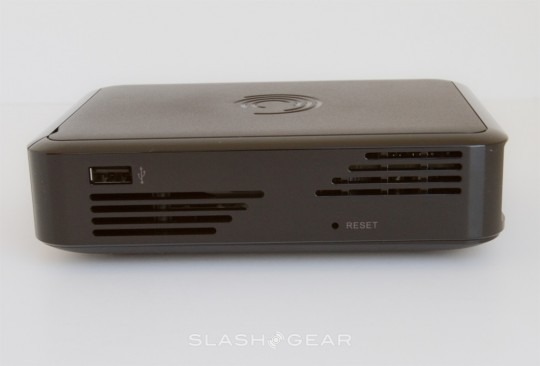 So, gigabit ethernet aside, where else is there room for improvement? Well, with Seagate's emphasis on port flexibility in the GoFlex range, we'd have liked to have seen an eSATA and/or a FireWire port on the TV HD, or perhaps even USB 3.0. Of course the company's own modular drives slot right in, but third-party drives are limited to USB 2.0. A USB Host port would be useful, too, to quickly load content onto a GoFlex HDD without having to eject it, plug in a cable and hook it up to a computer separately.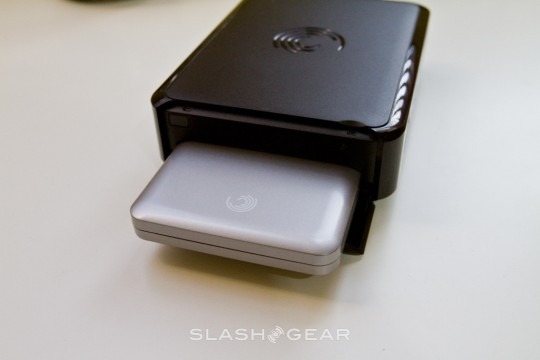 Still, there's plenty to like about the Seagate GoFlex TV HD, and while it doesn't necessarily do anything – barring the internal HDD bay – that we've not seen in other media players, as a part of the company's new ecosystem it's a consumer-friendly way of viewing digital content on a bigger display. If you're opting for GoFlex for your external storage then, at $129.99, the GoFlex TV HD seems a reasonable addition. If you're content with your regular drives then we'd suggest shopping around: there's no shortage of internet-connected HD media players out there right now, offering more ports than just USB 2.0.